Throughout the Coronavirus pandemic GP practices have had to change the way they work to keep patients and staff safe, however this is an urgent call to let people know that their GP practice is open for appointments and available to help with any health concerns.
GP practices are open for:
Face-to-face appointments
Video appointments
Telephone appointments
Cervical screening (smear tests)
Health concerns such as finding a lump in your body, you're struggling with your mental health, your child or the person you care for is unwell, if you or your child needs a vaccine. 
Any other physical or mental health concern
Delaying a health concern could lead to you becoming seriously unwell. Please contact your practice via telephone, online or via the NHS app if you wish to speak to a GP or make an appointment. Details on all practices in the Vale of York can be found here.
Dr Rumina Onac, GP Old School Medical Practice explains more in this video.
Cancer Services
Cancer hasn't gone away because of Coronavirus. There will still be people in our community experiencing signs and symptoms of cancer such as the sudden appearance of a lump, blood in their urine, or a change to usual bowel habits - and so it is vital these people contact their GP practice so a doctor can investigate and refer to a specialist if necessary.
The CCG alongside, York Teaching Hospital NHS Foundation Trust and GP Practices from the Humber, Coast and Vale Cancer Alliance are working together to ensure cancer services continue safely, urging people not to delay seeking help if they notice any signs and symptoms of cancer.
Dr Dan Cottingham, GP at Sherburn Group Practice and the CCG's Cancer and End of Life Lead explains how cancer services are continuing in this video.
Video appointments
The number of GP patient appointments in North Yorkshire and York fulfilled using video consulting has soared during the Coronavirus pandemic. Across North Yorkshire and York doctors have been involved in more than 17,500 virtual consultations with patients over the last four months.
Whilst we encourage patients not to put off making a face-to-face appointment with a GP regarding a health concern, video consultations are a way for patients to see a GP or other health professional without needing to travel to the practice.
Please get in touch with your practice and you may be offered a video appointment, a telephone appointment, or face-to-face appointment – whichever is most appropriate for you and your circumstances
Dr Chris Stanley, GP Haxby Group explains how video consultations (appointments) work and how they can be of benefit to some patients.
Flu vaccination programme 2020
All patients in the Vale of York who are eligible for a free flu vaccination should receive information from their GP practice between September and end of October 2020 inviting them to make an appointment for their flu vaccine. All vaccines are being carried out safely in line with government guidance, with some changes to how individual practices are delivering them to patients. Visit the Vale of York Flu vaccination programme 2020 campaign page for full details. 
Our press releases
Local leaders respond to being placed in Tier 2 - October 2020
Please be understanding of GP service delays in the Vale of York - October 2020
Health and care leaders in North Yorkshire and York prepare for the winter season - September 2020
Local NHS reminds people 'Don't wait if something isn't quite right' - September 2020
North Yorkshire and York residents reassured that they will be vaccinated against the flu - September 2020
Health and Care Partnership appeals for public support to help ensure services resume safely and promptly - July 2020
GP video consultations soar during coronavirus pandemic, as doctors encourage patients worried about their health not to put off making an appointment any longer - July 2020
Vale of York CCG proactively supporting Care Homes to protect against COVID-19 - June 2020
Dementia support work proceeds at pace across Vale of York and North Yorkshire during Covid-19 lockdown - May 2020
NHS in Vale of York provide over 100 electronic handheld devices to care homes for online GP consultations - May 2020
70% drop in Vale of York Cancer referrals – Doctors urge people to visit their GP - May 2020
CCG reminds patients that the NHS is still available for non Covid-19 related illnesses - April 2020
"Don't worry at home", health commissioner offers advice to parents and carers - April 2020
NHS and Local Councils Work Together to Ensure Care for the Most Vulnerable During COVID-19 Outbreak - April 2020
Keep updated with our latest news and information by following us on Facebook, Twitter and Instagram, where we post regular content on how GP services are working in the Vale of York.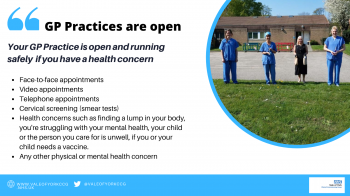 More videos from our primary care professionals
Dr Abbie Brookes, GP Priory Medical Group
Dr Victoria Middleton, GP Priory Medical Group