Dementia support work proceeds at pace across Vale of York and North Yorkshire during Covid-19 lockdown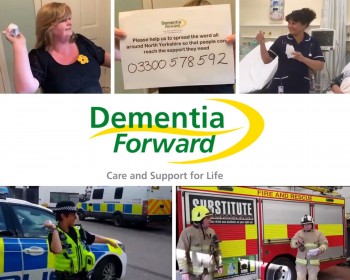 North Yorkshire charity Dementia Forward is using the coronavirus lockdown period to increase awareness of the support they offer for people with dementia and to improve joined-up working with local GPs.
Dementia Forward is commissioned by Vale of York Clinical Commissioning Group, North Yorkshire Clinical Commissioning Group, and North Yorkshire County Council, and provides advice information, practical and wellbeing support to people with dementia and their families.
This includes helping people come to terms with their diagnosis, making sure they receive the financial support they are entitled to, managing the condition and changes over time, and ensuring that the individual and their carers have access to respite if needed.
Whilst the Covid-19 lockdown has limited the face-to-face support work that Dementia Forward can carry out, it has provided opportunities to work more closely with GPs.  Dementia Forward's Specialist Nurse is working with some of the GPs' most vulnerable patients, helping to develop care plans and having sensitive discussions with patients around advanced care planning to ensure that they have personalised end of life plans in place.
Local people across North Yorkshire, including the police and fire services, are helping Dementia Forward promote their helpline through a video on social media which can be seen here: https://youtu.be/9w2-tVVasVo .  The Dementia Forward helpline number is 03300 578592 and the opening times are Monday – Friday 9 am – 4 pm.
Jill Quinn, Chief Executive of Dementia Forward, said, "The Covid-19 pandemic has been difficult for everyone, but it's really pleasing that we have been able to help so many people with dementia develop personalised care plans. I would encourage anyone with a dementia diagnosis, or caring for someone with dementia, to contact us and see how we can help. We pride ourselves on developing long-term relationships with people and helping them to manage their changing needs whilst supporting their family as well."  
Dr Helena Ebbs, GP at Pickering Medical Practice, said, "Dementia Forward provide the much needed ongoing support to people living with dementia and their close friends and family. Their contribution to the lives of people with Dementia in this area cannot be underestimated. I would encourage anyone who thinks that they might have dementia to speak to their GP as a dementia diagnosis can help to unlock significant help, including access to appropriate medicines, advice and practical information, as well as financial support."
Dr Nigel Wells, Clinical Chair at the Vale of York CCG said, "Dementia can be a difficult and intimidating topic to talk about, but there is so much support and help available out there from brilliant organisations like Dementia Forward who are doing such positive work. This is complemented by the dementia support advisors who provide fantastic assistance to many people and are embedded in our communities right across the region."
< Back to all news stories