Personal wheelchair budgets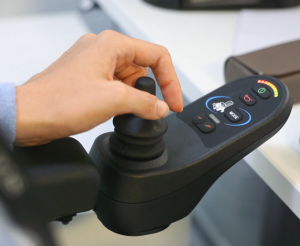 Personal Wheelchair Budgets were introduced in North Yorkshire and York in December 2019 and aim to increase choice and control for people who access wheelchair services through:
Providing holistic assessments that take into account people's wider needs.
Considering how wheelchair provision can increase independence and improve people's health and wellbeing outcomes.
Supporting people to identify their own health and wellbeing goals.
Increasing the availability of information about the choices available to people locally.
Integrating services around individuals by bringing together care and support agencies.
How do I know if I'm eligible?
Wheelchair users who are referred and meet the eligibility criteria of the local wheelchair service, plus people who are already registered with the wheelchair service (these people will be eligible for a personal wheelchair budget when they need a new wheelchair) are eligible for an assessment for a Personal Wheelchair Budget.
Exclusions for a Personal Wheelchair Budget are:
Short term loan wheelchairs
People with rapidly deteriorating or changing needs
How are Personal Wheelchair Budgets provided?
Wheelchair users will have three options for the provision of their chair through a Personal Wheelchair Budget:
Notional Personal Wheelchair Budget (standard NHS provision)
This means the provision of the wheelchair that would have routinely been provided by the NHS to meet your identified needs. There may be an opportunity to choose an alternative chair that is within the catalogue of chairs provided, if this better meets your needs at no additional cost e.g. a different colour.
Notional Personal Wheelchair Budget with contribution
This option allows a person or another agency (for example social care, access to work or voluntary or charitable organisation) to contribute their personal budget towards a higher specification NHS wheelchair or add additional features in order to meet wider health and wellbeing needs.
Third Party Personal Wheelchair Budget
This allows a person to use their personal budget as a contribution to buying a wheelchair from an independent retailer outside of the NHS. This is only available if the wheelchair is deemed clinically appropriate following a discussion with a wheelchair therapist.
Further information on Personal Wheelchair Budgets. 
How can I be assessed for a Personal Wheelchair Budget?
If you currently have a wheelchair provided by North Yorkshire and York Wheelchair Service, you can make a re-referral directly to the Wheelchair Service on:
Phone: 01904 654052
Email: nrl.wcs-york@nhs.net or Cabsl.nyowheelchairs@nhs.net
Website: Wheelchair Service 
If you do not currently have a wheelchair and would like to be assessed, a referral will need to be made to the Wheelchair Service, this can be done by either your GP or other professionals who may be involved in your care e.g. Occupational Therapist. If your health and social care professional believes you are eligible for a wheelchair and you will benefit from one, they will refer you to the service.