Maternity, women's and children's services
Children and Young People Continuing Care
Children and young people may receive a continuing care package if they have needs arising from disability, accident or illness that can't be met by existing universal or specialist services alone. Find out more about the children and young people's continuing care service here.
Maternity Services
Maternity services in the Vale of York are delivered by York Teaching Hospital NHS Foundation Trust and commissioned by the CCG. Other local services also support women and their family's pre and post natal.
Maternity Voices Partnership (MVP) York and District
To provide maternity care that is personalised, it is essential to hear the personal experiences of those who use them and work collaboratively with women and their families to co-design maternity services. 
To get involved and share your feedback click here.
The Humber, Coast and Vale Local Maternity System
A new website which serves as a comprehensive online guide to pregnancy, giving birth and beyond has been launched in the Vale of York. The Humber, Coast and Vale Local Maternity System has created www.humbercoastandvalematernity.org.uk  to support people who are thinking about having children, who are already pregnant or who have recently had a baby.
National Maternity Review: Better Births
Better Births, the report of the National Maternity Review was published in February 2016 and set out a clear vision: for maternity services across England to become safer, more personalised, kinder, professional and more family friendly; where every woman has access to information to enable her to make decisions about her care; and where she and her baby can access support that is centred on their individual needs and circumstances.
It also calls for all staff to be supported to deliver care which is women centred, working in high performing teams, in organisations which are well led and in cultures which promote innovation, continuous learning, and break down organisational and professional boundaries. More information can be found here: https://www.england.nhs.uk/mat-transformation/
'ICON – Babies Cry, You can Cope' (ICON)
ICON is an evidenced-based programme designed to help parents and carers understand the normal crying pattern of young infants and to help them develop successful coping mechanisms to deal with this.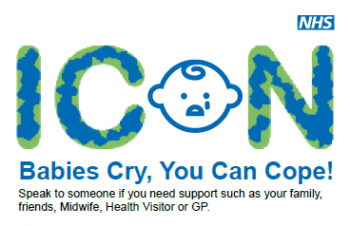 The ICON programme delivers four simple messages before the birth and in the first few months of a baby's life:
I – Infant crying is normal;
C –Comforting methods can help;
O – It's OK to walk away;
N – Never, ever shake a baby.
These ICON messages have been demonstrated to help parents and carers manage the stresses which can be caused by normal infant crying. Midwives, Health Visitors and other professionals across the region have developed ICON expertise to help give parents and carers the tools they need to help keep their babies safe.
More information and resources to support the ICON project are available on the dedicated ICON website at http://iconcope.org/.