Information about diabetes care during coronavirus can be found here.
Diabetes is a lifelong condition that causes a person's blood sugar level to become too high.
There are 2 main types of diabetes:
type 1 diabetes – where the body's immune system attacks and destroys the cells that produce insulin
type 2 diabetes – where the body does not produce enough insulin, or the body's cells do not react to insulin
Type 2 diabetes is far more common than type 1. In the UK, around 90% of all adults with diabetes have type 2.
More information on diabetes can be found here: https://www.nhs.uk/conditions/diabetes/
You can calculate your risk of Diabetes at: www.diabetes.org.uk/risk
How the CCG supports people with diabetes
Approximately 17,000 adults in the Vale of York live with diabetes.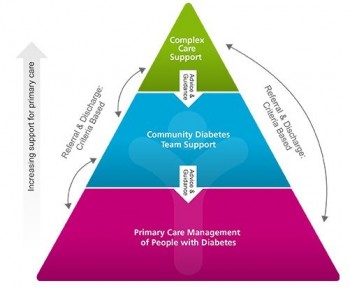 Improving outcomes for people with and at risk of diabetes was one of the CCG's strategic priorities.
A collaborative service redesign by the CCG, local patients, York Teaching Hospital NHS Foundation Trust, Diabetes UK and local practices led to the creation of a new way of providing care and treatment in a local care setting.
The Community Diabetes Team is a key development and now provides an integrated support and care network for people with diabetes.
Patients need different levels of support at different times and patients are now able to access the most appropriate level of care in the most appropriate setting according to their need.
Care is also supported by the Your Diabetes website, patient forums and education sessions, both in the community and at York hospital.
Implementation date: October 2014
This work delivers:
Our strategic priority to improve local outcomes for patients; our aim to provide healthcare services closer to home.
The service redesign makes it possible to:
Deliver integrated, person centred care; allow patients to focus on self-efficacy; provide robust performance monitoring; continuously improve quality; reduce variation in the treatment and care of patients; provide care through an expert workforce.
Glucose monitoring systems
NHS Vale of York Clinical Commissioning Group has adopted the NHS England commissioning position on FreeStyle Libre to allow people with Type 1 diabetes to self-manage glucose levels.
FreeStyle Libre is a handheld device which scans over a sensor applied to the skin to measure interstitial glucose levels – an alternative to routine finger-prick blood glucose testing. This results in a quick and painless glucose reading, a near-continuous record of measurement and an indication of level trends over time. 
FreeStyle Libre® will be provided to patients that meet the full criteria of the local commissioning statement which includes:
patients with Type 1 diabetes mellitus (T1DM) and;
aged four and above and;
under specialist care and;
using multiple daily injections of insulin, or insulin pump therapy, and;
whom the specialist considers the use of the device will be cost-effective. The use of FreeStyle Libre® is expected to be cost neutral if a patient is currently finger prick testing eight or more times daily. It will be regarded as cost effective when the introduction of FreeStyle Libre® reduces the testing frequency by at least seven times daily.
Details of the trial, jointly produced by colleagues from NHS Scarborough and Ryedale CCG and York Teaching Hospitals NHS Foundation Trust, is based on the Regional Medicines Optimisation Committee suggestion, and adapted to help ensure that local NHS resources are focused on those who will most benefit from this device.
The device, its use and associated costs will be monitored in collaboration with providers, patients and their families over the coming months through a robust audit process.
The trial is expected to run for six months.
For more information on FreeStyle Libre and a full list of eligibility criteria please click here.
Further information about glucose monitoring systems
Glucose monitoring systems are placed into the body but not into the bloodstream and therefore provide continuous glucose monitoring, not blood glucose monitoring.
Blood glucose meters test blood. Glucose monitoring system sensors measure the glucose in interstitial fluid, not blood.
Continuous glucose monitoring systems can be used by insulin pump wearers and those who inject insulin.
NHS Diabetes Prevention Programme
The Healthier You: NHS Diabetes Prevention Programme (NHS DPP) identifies those at high risk of Type 2 Diabetes and refers them onto a behaviour change programme.
Type 2 diabetes is a leading cause of preventable sight loss in people of working age and is a major contributor to kidney failure, heart attack, and stroke.
There are currently 3.4 million people with Type 2 diabetes in England with around 200,000 new diagnoses every year. While Type 1 diabetes cannot be prevented and is not linked to lifestyle, Type 2 diabetes is largely preventable through lifestyle changes.
One in six of all people in hospital have diabetes – while diabetes is often not the reason for admission, they often need a longer stay in hospital, are more likely to be re admitted and their risk of dying is higher.
There is strong international evidence which demonstrates how behavioural interventions, which support people to maintain a healthy weight and be more active, can significantly reduce the risk of developing the condition.
If you have any other general questions about the programme, please email england.ndpp@nhs.net.
Watch the NHS Diabetes Prevention Programme story