Reaching a diverse community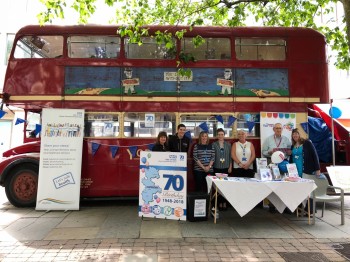 We work hard to broaden the range of people that we actively engage with. From working with local learning disability and carers forums, to taking a bus into rural and deprived communities to reach locations where we have not historically had a presence, we will continue to be innovative in the way we connect with diverse communities.
We use a variety of mechanisms to involve the local population and gather feedback, to ensure that we can capture a wide range of views and opinions. Evidence of the number of public facing meetings and sessions we hold can be seen on our events page.
Methods of engagement include
Focus groups
Informal discussions
Formal consultations
Public meetings
Regular stakeholder newsletters
Social media
Videos
Surveys – online, paper, through networks
Through media channels
Meetings with voluntary groups, Healthwatch and our stakeholder networks
Taking conversations into the community (on a bus!)
Working with our networks
We work closely with our voluntary sector representatives to ensure that as many groups as possible are represented in our work with our patients and the public.
We have an extensive list of stakeholders and take a proactive approach to networking to ensure that we keep everyone up-to-date on the CCG's work and enable them to get involved. To view a pdf version of our stakeholder list please click here.
We have regular meetings with our colleagues from Healthwatch and attend voluntary sector forums, assemblies and events – ranging from learning difficulties and the older people's forums, to carers' advisory groups and patient participation groups. During 2018-19 we attended over 100 such events and have attended 50 events so far in 2019-20.
Our forums
It is also vital that our community helps us on our engagement journey. We have number of forums and channels where patients and members of the public are represented and help assure us in our relation to public involvement. Some examples include the Wheelchair Service User Forum and the Maternity Voices Partnership (MVP) - which is a group of women and their families, commissioners and providers (midwives and doctors) working together review and contribute to the development of local maternity care and increase the voice of the service user. 
Examples of our different methods of engagement include:
Have you heard of social prescribing?
As part of the long term plan there is a greater focus on helping people improve their own health and wellbeing through social prescribing. However, in the Selby area of our patch the referrals into an already existing social prescribing service are low. We decided to ask the local population and health professionals what they know about the term social prescribing. The aim of the survey is to inform the development of a refreshed brand identity for social prescribing, so that it means something to the local community. During December 2019 and January 2020 we used an online and paper survey, distributed through local surgeries, community groups and the 'Selby Matters' initiative. We enhanced communication through social media and face-to-face conversations. We offered the version in alternative formats if requested.
Student health campaign
We wanted to find out how students and young people find out about health services. We went into York College during fresher's week (September 2019) and their winter health and wellbeing day (December 2019) to talk to students about what would make a health campaign attractive. Many students said they would notice adverts and advice through social media. We will be using this feedback to deliver some targeted campaigns.
Developing our engagement principles
We are recently refreshed our engagement principles as part of our engagement and communications strategy. It was important that we based these principles on what our community said was important to them. In 2019 we have produced a survey and went out to talk to key stakeholders, VCSE organisations and held public sessions with Healthwatch. These conversations have been used to develop our new communications and engagement strategy.
Read the report on your input into our engagement principles and strategy 2019-22.
Watch the short video about what our community said was important about how we engage
LGBT awareness
We used Healthwatch York's report on the LGBT+ community's experience of accessing healthcare services. Some of the recommendations were around raising awareness and hosting some training. On 29 October 2019 we invited Yorkshire MESMAC, Yorkshire's largest LGBT+ sexual and mental health charity to deliver a 3-hour training session to CCG staff in order to raise awareness regarding issues that LGBT+ people face. Our local Healthwatch and primary care colleagues also joined our staff on this course.
Maternity voices partnership
In order to hear the views of mums and their families, we now hold maternity voices partnership meetings in parent friendly locations. In September 2019 we used SPARK community venue in York. Parents were able to come along with their children and give their feedback. There were toys and places for the children to play and support services such as Treasure Chest Breast Feeding advice and IAPT were on hand to chat to parents. Find out more about our Maternity Voices Partnership.
Ageing well communities
In May 2019 we supported the North Yorkshire Public health team in their project to find out what helps make an ageing well community. Age UK helped to bring people to an event held in a local community centre in Selby. Over 30 people from rural towns and Selby came together to provide valuable insight into what helps people age well. Our Head of Engagement facilitate the tabletop discussion about health and best methods of communication.
GP extended access
As part of the national requirement to increase the access to GP services across England and Wales by providing evening (6:30pm - 8:00pm) and weekend appointments, we needed to gather the views of our local population. In February and April 2018 we used a number of diverse methods to give our patients and public the opportunity to think about their needs are and then tell us how they would like the service to be delivered.
Survey – online, paper copies distributed to GP surveys and voluntary groups
Easy read version, created by People First York
Face-to-face sessions in GP surgeries, local council building
Leafleting at local railways stations (to hear the voice of the commuter and working adult who may be more likely to use evening and weekend GP appointments)
Article in the local press
Stakeholder newsletter
Stall at a student freshers fair at York College
Through voluntary groups, our carers network and Healthwatch.
These views were fed into the development of the service specification around the times of appointments and what specific surgeries needed to be available out of core hours. More infromation and evidence can be found here.
End of life care strategy: Face-to-face sessions with service users
We are currently developing a new end of life care stately for the Vale of York. As part of this we wanted to gather as many views as possible to help inform the vision for delivering end of life care services within the Vale of York. To ensure that we captured the views of all those involved in palliative care we held engagement sessions with clinicians, volunteers, carers and the public, as well as visiting service users in the local hospice. Find out more here.
Working with our local CVS Learning Difficulties (LD) forum
We regularly attend a Learning Difficulties (LD) forum, where attendees raised a number of concerns around barriers to accessing health care and health checks within the LD community and wanted more information about women's health.
Working in collaboration with the learning disability (LD) community, a GP and nurse from the Vale of York CCG attended an informative session at the Learning Disability Forum (LDF) CVS as part of a question and answer session around screening, women's health and what stops people from going to see their GP. We listened to your feedback and have been working on an action plan to address these concerns. As a result two new LD nurses will be working within York in 2019 to help support patients with a learning disability and increase uptake of health checks. More infromation can be found here.