York East PCN is one of five Primary Care Networks (PCNs) covering the York and Pocklington area. The others are Priory Medical Group PCN, York City Centre PCN, West, Outer and North East York PCN, and York Medical Group PCN.
Due to the way in which the PCNs in the York area are structured there is a significant amount of geographical overlap between PCNs, meaning that certain services (like a pharmacy for example) will sit in several PCNs at once.
York East PCN is served by three practices, Pocklington Group Practice, Elvington Medical Practice, and MyHealth. Together the PCN serves a population of 43,630.
York East PCN is led by their Clinical Director Dr Tim Maycock.
GP practices working together as Primary Care Networks across the Vale of York have shared their highlights from a year of progress developing services and support for their local populations.
There are five PCNs serving the York area - Priory Medical Group, West, Outer and North East York, York City Centre, York East and York Medical Group.
The five York PCNs, made up of 11 GP practices and aligned with the City of York Council area, have highlighted success in expanding capacity, with 10 per cent more appointments available than pre-pandemic. They also highlight digital developments including moves towards a single patient record system and the introduction of new posts including pharmacists, practitioners, primary care mental health workers, social prescribing link workers and care coordinators.
The success of the Askham Bar Vaccination Centre was a highlight of the year, with more than 200,000 COVID-19 vaccines delivered across the five PCNs to the end of March 2021, while there are discussions about maintaining the centre as a primary/community care hub for York residents.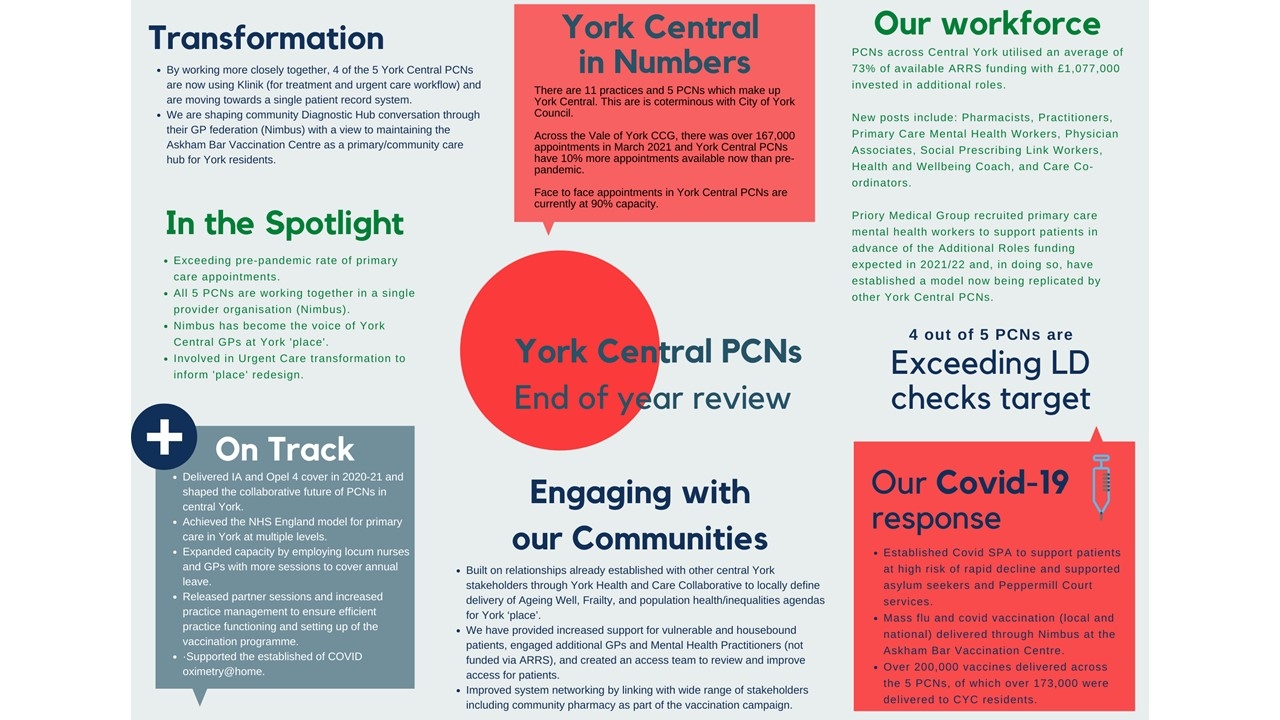 York place local priorities for 2020-21
The five PCNs in the York area cover almost 250,000 registered patients. The resident population of York is expected to grow by 2% by 2025, with the 60-90 year old demographic increasing by 10% in the same time period. Managing an anticipated additional 3.5% increase in demand on GP capacity, and 10% increase on community nurses and adult social care is a high priority.
Strengthening general practice resilience amid a national shortage in GP workforce
Managing the growing Care Home and Nursing Home population more effectively and collaboratively 
Improving partnership working between PCNs and with health and social care partners to better support system-wide approaches to meet population needs
Aligning Primary Care Home, Better Care Fund and the five York area PCNs to improve primary care integration
Challenges
An increasing and ageing population will place a greater demand across all of health and social care
10-year life expectancy gap between wealthiest and poorest wards in York central locality
An historic culture of GPs and provider silo working

 
Partnership work underway
York Better Care Fund has a successful track-record of partnership and integrated team working, some attracting national recognition.
Primary Care Home (now York Health & Care Collaborative) is established as a commissioner provider forum representing health and social care including CVS at a senior operational level.
York Hospital, Vocare, Harrogate NHS Trust, and Yorkshire Ambulance, together with GPs, are starting to collaborate to redesign Urgent Care.