Vale of York Primary Care Networks share highlights from a year of progress
GP practices working together as Primary Care Networks across the Vale of York have shared their highlights from a year of progress developing services and support for their local populations.
Each member practice in NHS Vale of York Clinical Commissioning Group – which plans and designs services for more than 350,000 people in York, Selby, Tadcaster, Easingwold and Pocklington and the surrounding towns, villages and rural areas – now belongs to one of eight Primary Care Networks (PCNs).
The networks have been designed to bring together general practices to provide a wider range of services to patients in an area, usually covering 30,000 to 50,000 people. The practices are working together with community, mental health, social care, pharmacy, hospital and voluntary services in their local area to provide more proactive, personalised health and social care closer to people's homes.
There are five PCNs serving the York area - Priory Medical Group, West, Outer and North East York, York City Centre, York East and York Medical Group.
The South Hambleton & Ryedale Primary Care Network is made up of seven practices to the north of York, while seven practices in the Selby district are covered by Selby Town and Tadcaster & Rural Selby PCNs.
In their end-of-year reviews reflecting on 2020-21, the Vale of York's Primary Care Networks have outlined the transformation that has taken place, their priorities, their work engaging with their communities, the development of their staff teams and their response to the COVID-19 pandemic.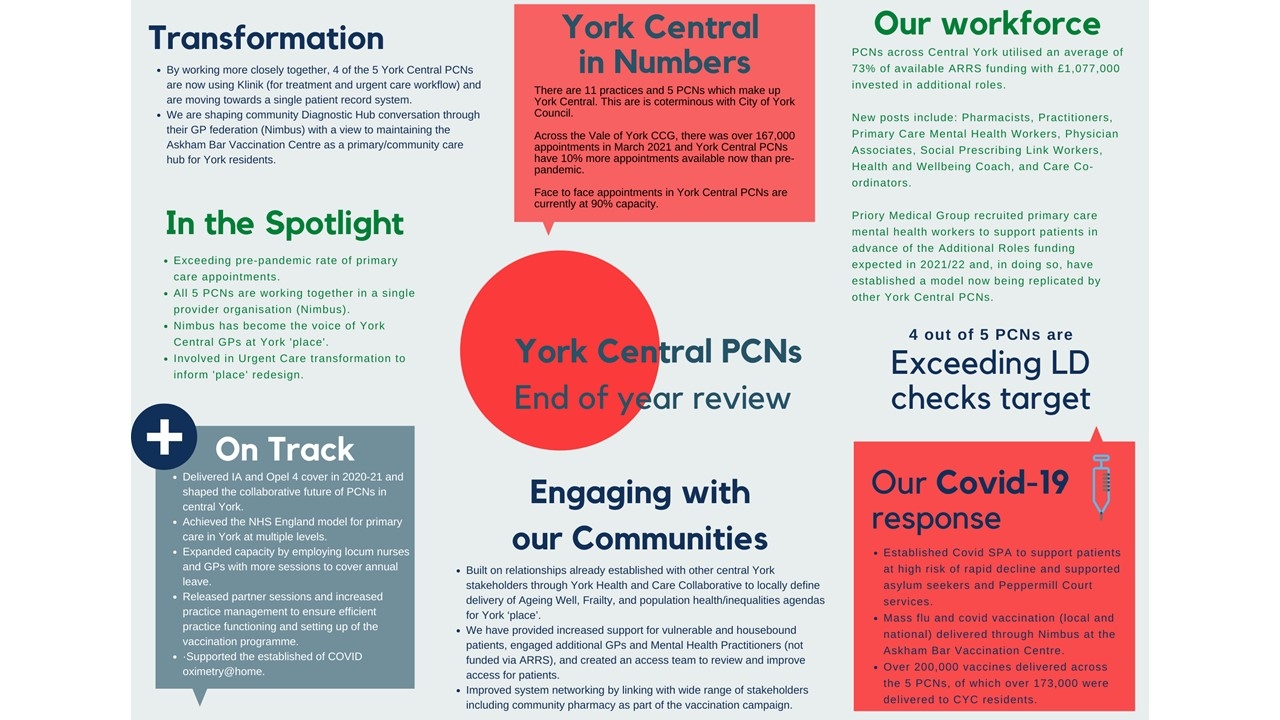 The five York PCNs, made up of 11 GP practices and aligned with the City of York Council area, have highlighted success in expanding capacity, with 10 per cent more appointments available than pre-pandemic. They also highlight digital developments including moves towards a single patient record system and the introduction of new posts including pharmacists, practitioners, primary care mental health workers, social prescribing link workers and care coordinators.
The success of the Askham Bar Vaccination Centre was a highlight of the year, with more than 200,000 COVID-19 vaccines delivered across the five PCNs to the end of March 2021, while there are discussions about maintaining the centre as a primary/community care hub for York residents.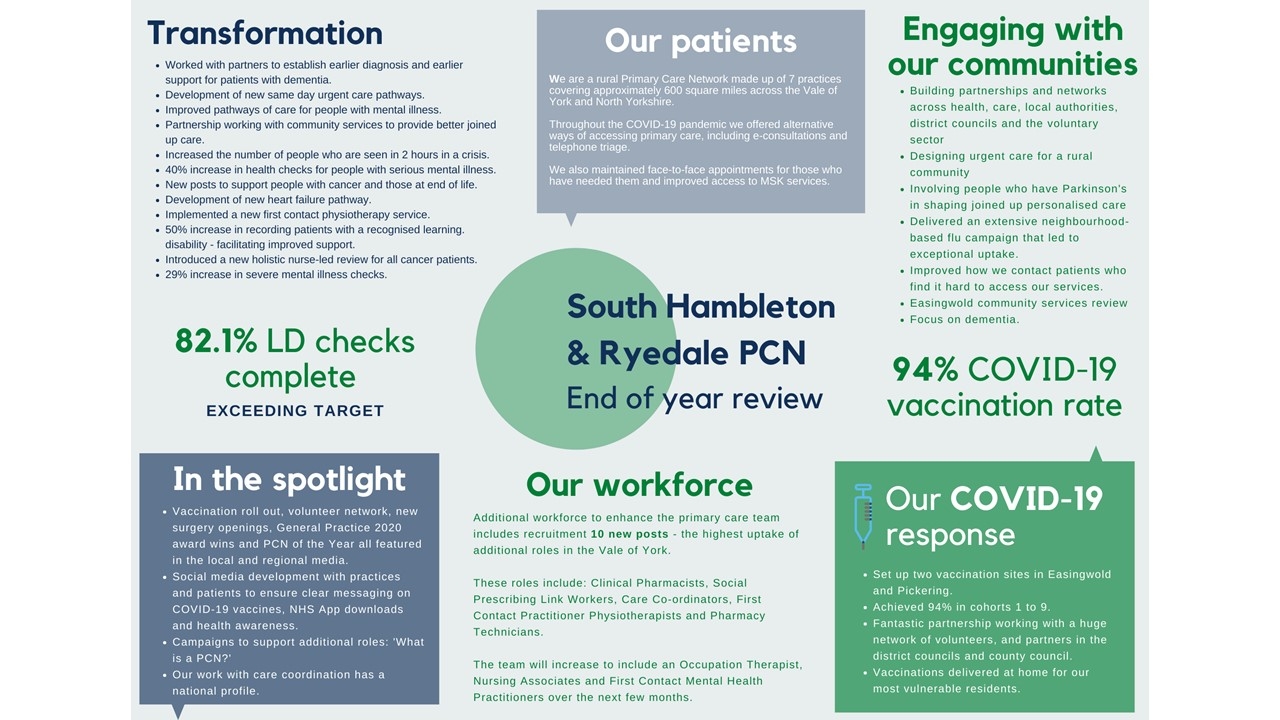 The South Hambleton & Ryedale Primary Care Network, which covers about 600 square miles, has been working with partners on earlier diagnosis and support for patients with dementia and has exceeded its target for learning disability health checks, among its list of highlights.
Its primary care team has also been boosted by 10 new posts including clinical pharmacists, social prescribing link workers and care coordinators.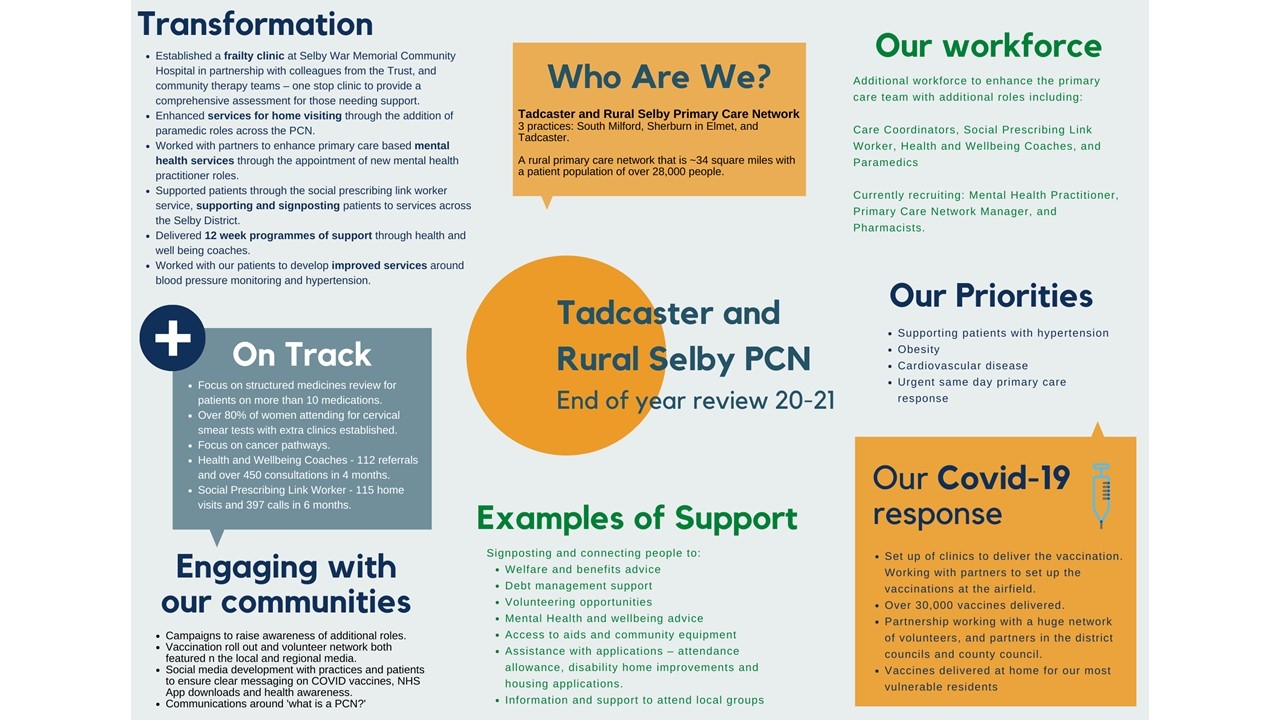 In the Selby district, Tadcaster and Rural Selby PCN highlighted a focus on cancer, including extra clinics for cervical smear tests, as well as the addition of paramedic roles to support with home visiting.
Other new roles include mental health practitioners and health and wellbeing coaches, offering 12-week programmes of support. Local priorities include supporting patients with hypertension, obesity and cardiovascular disease as well as urgent same-day primary care response.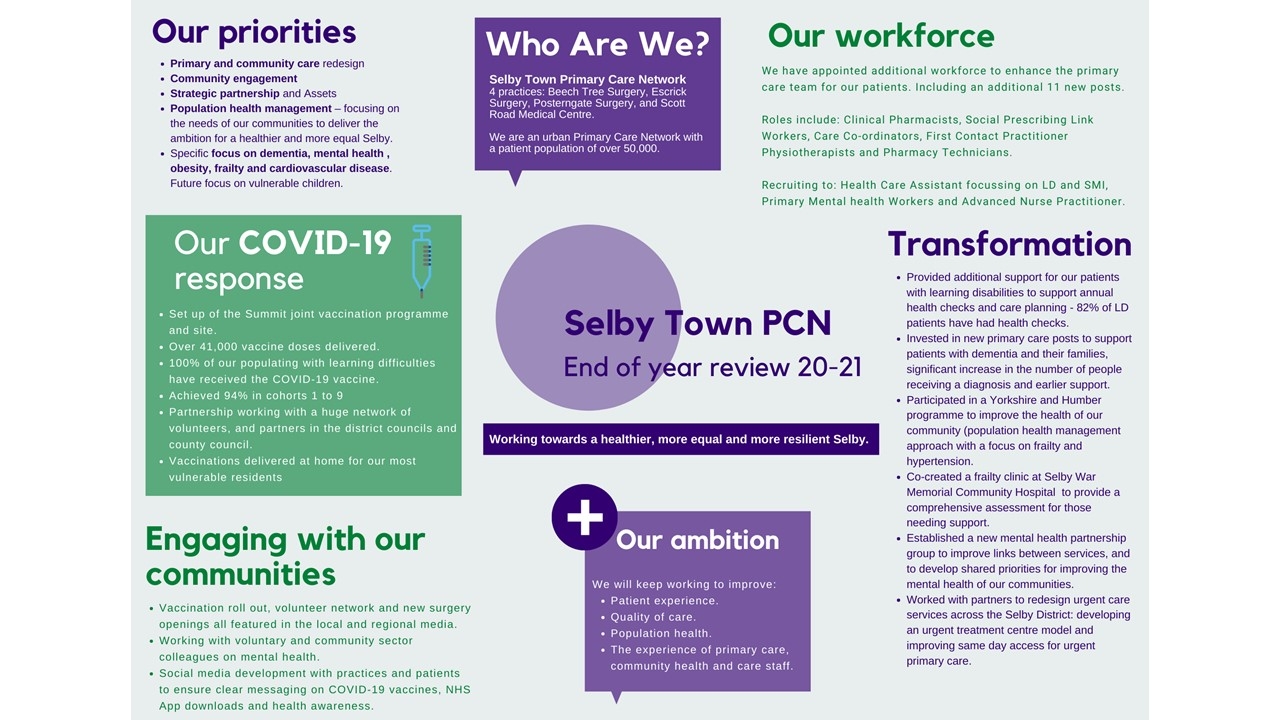 Selby Town PCN, which serves an urban population of more than 50,000, highlighted population health management work focusing on the needs of communities, plus dementia, mental health, frailty and cardiovascular disease.
The PCN's COVID-19 response proved successful, with a vaccination hub set up at the town's Summit centre and more than 41,000 doses delivered to the end of March 2021. The vaccine was delivered to 100 per cent of the area's population with learning difficulties, while the vaccine was given in the homes of the most vulnerable residents.
Staff have been recruited to 11 new roles, including to support patients with dementia and their families – leading to an increase in the number of people receiving an earlier diagnosis and support.
Read more about Primary Care Networks in the Vale of York here.
Download the PCN end-of-year infographics here.
< Back to all news stories