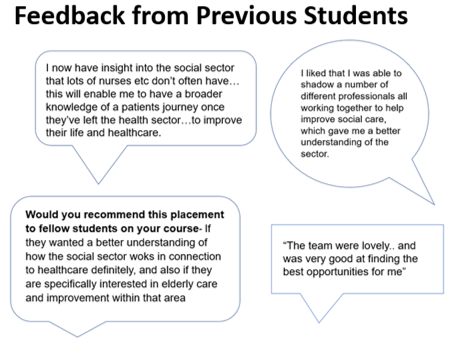 Through innovative partnership working with local universities, the ICB are delighted to now be able to offer student placements within our Nursing Team.  Through these placements, we will introduce students to the wealth of career opportunities available within social care, and support them to gain an understanding of the sector and the roles undertaken by those working within it. This knowledge will empower students and enrich them in their future careers by supporting them to work closely with colleagues within social care, and facilitate strong and informed relationships between health and care providers to deliver high quality care for our patients and residents.
Our team of health and care professionals provide quality improvement support and training to the independent adult social care sector across North Yorkshire and York, which covers 270 care homes and 180 domiciliary care providers, supported living and extra care settings. We work in partnership with an array of local services and teams to ensure we are able to respond to the needs of our providers and their staff, and support delivery of high-quality care across the area. We work as part of an integrated quality model with North Yorkshire Council- to provided joined up approach to quality improvement and support to our care providers.
This is a unique opportunity to work with an award winning and patient safety driven team, to receive a comprehensive overview of the care sector and the role of quality improvement nursing to drive continuous improvement and best outcomes.  Placements can be individually tailored to the future career aspirations and knowledge base of the student, but can include opportunities to:
Experience working within a care provider with shadowing and support from colleagues within that setting.
Shadow integrated quality improvement support and training delivered by the team across the sector in areas including improving hydration, falls prevention, identification of deterioration, pressure ulcer prevention and oral health among others.
Gain an understanding and experience the variety of social care provision across North Yorkshire and York including nursing, residential, supported living, extra care and domiciliary provision. The care mix in settings while cover a wide spectrum including those living with a range of mental health needs, physical health needs, learning disabilities and autism.
Opportunity to engage with both those in receipt of care, and the multidisciplinary teams who care for those living within our community.
Understand quality improvement methodologies and programmes of work
How the ICB works closely with partners with local authority and health partners to support our care sector, with opportunity to shadow colleagues to understand how these services work with providers.
Understanding the role of medicines management, safeguarding, social work and other disciplines within social care
Digital innovation with the sector to support joint working between health and social care
And much more!
Learning Outcomes
This placement provides opportunities for students to achieve following NMC Part 2 proficiencies:
5-8: Participates in providing and evaluating person-centred care with increased confidence
9-24: Participates in the procedures for the planning, provision and management of person-centred care with increased confidence.
25-30 Participates in improving safety and quality of person-centred care with increased confidence.
31-33: Participates in the coordination of person-centred care with increased confidence.
For further information on a placement with the ICB- Please view PARE (Practice Assessment Record and Evaluation System) or speak to your placement coordinator.