Focusing on the increased importance of dementia diagnosis and support 
This protected learning event centred around the knowledge and resources needed to support GPs and fellow primary healthcare professionals to recognise dementia and improve the quality of life and care of people who are concerned about their memory, people with dementia and their family and carers. The event looked at opportunities for improving care, maximising spread of what is going well, sharing learning and building relationships. 
Keynote 1:
The CCG welcomed Damian Murphy and the Mind and Voices group, a support network for people who live with dementia. This humorous and compassionate session enabled participants to gain a unique insight into dementia through the stories of people with dementia and their carers.
Keynote 2:
As part of the second keynote speech we heard from Nicci Gerarrd, a novelist (writing in her own name and, with her husband as Nicci French), a journalist and a campaigner. She talked about what Dementia can teach us about love and how we learn from it.  
Watch the recording of both Keynote sessions here. 
Graphic artist captures the day...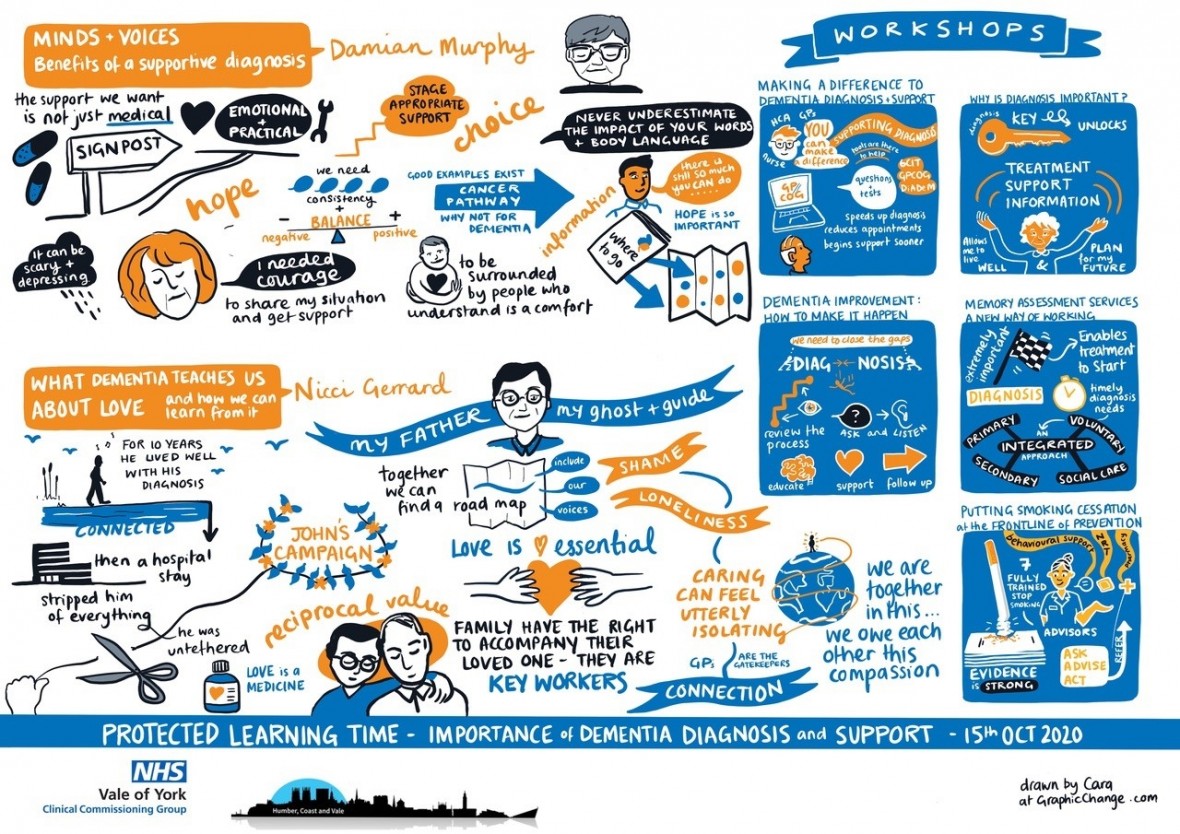 Workshops 
Workshop and presentations
Presenter
1

Making a difference to dementia diagnosis and support.

This session is aimed at nurses and HCAs about the knowledge, skills and understanding of dementia they need in order to make a difference to dementia diagnosis and support.

Click here to view either the workshop 1 presentation or video

Julia Davy, specialist dementia nurse

Jill Quinn, Dementia Forward

2

Why is diagnosis important?

This session looks at the importance and value of a diagnosis, of supporting people on their journey to diagnosis and the benefits to both individuals and across the health systems of early identification.

Click here to view the video of workshop 2

Dr Sara Humphrey, Partner North Street – Affinity Care, GP with a Special Interest in Older People, GP Advisor Yorkshire & Humber Dementia CN & Member of Older People's Mental Health Expert Advisory Group

3

Dementia improvement: How to make it happen

Using the example of the South Hambleton and Ryedale PCN Dementia Improvement Project, Dr Helena Ebbs will talk through the key elements of getting good ideas to spread, turning improvement projects into system change.

Click here to view either the workshop 3 presentation or video

Dr Helena Ebbs, GP at Pickering Practice and GP Governing Body member for NHS Vale of York CCG
4

Memory assessment services: a new way of working.

This session will focus on the memory assessment pathway and include the opportunity for Q&A and case studies.

Dr Venkatesh Muthukrishnan, Consultant Psychiatrist, Clinical Director, NY&Y MHSOP Services, Training Programme Director, Core Psychiatry Training, North and East Yorkshire.

5

Putting smoking cessation at the frontline of dementia prevention

 As well as being the leading cause of preventable death (worldwide ending 8 million lives prematurely a year), smoking is one of the biggest lifestyle risk factors for dementia. It increases cardiovascular risk, diabetes and stroke incidence, narrows the blood vessels to the brain and has a known oxidative stress effect which damages the brain.

Happily, evidence-based smoking cessation services have a strong track record of helping people to quit, and this session will explore equip primary care professionals to support their patients and work with local stop smoking services to implement this key preventative measure

Click here to view the workshop 5 presentation

Peter Roderick (Acting Consultant in Public Health, CYC and VoY CCG)

Glyn Newberry (Health Trainer Service Manager, CYC)

Mark O'Brien (North Yorkshire CC Smokefree service)