Tadcaster and rural Selby PCN

Tadcaster and Rural Selby PCN is made up of three general practices which look after the health needs of our population around the town of Tadcaster and villages of Sherburn in Elmet, South Milford, Micklefield and Thorpe Willoughby. The practices are:
Tadcaster and Rural Selby PCN looks after a population of 28,290 people.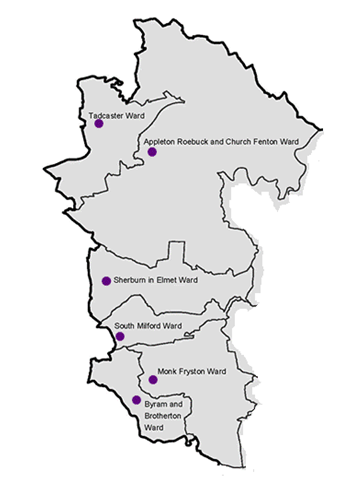 GP practices working together as Primary Care Networks across the Vale of York have shared their highlights from a year of progress developing services and support for their local populations.
Tadcaster and Rural Selby PCN has highlighted a focus on cancer, including extra clinics for cervical smear tests, as well as the addition of paramedic roles to support with home visiting.
Other new roles include mental health practitioners and health and wellbeing coaches, offering 12-week programmes of support. Local priorities include supporting patients with hypertension, obesity and cardiovascular disease as well as urgent same-day primary care response.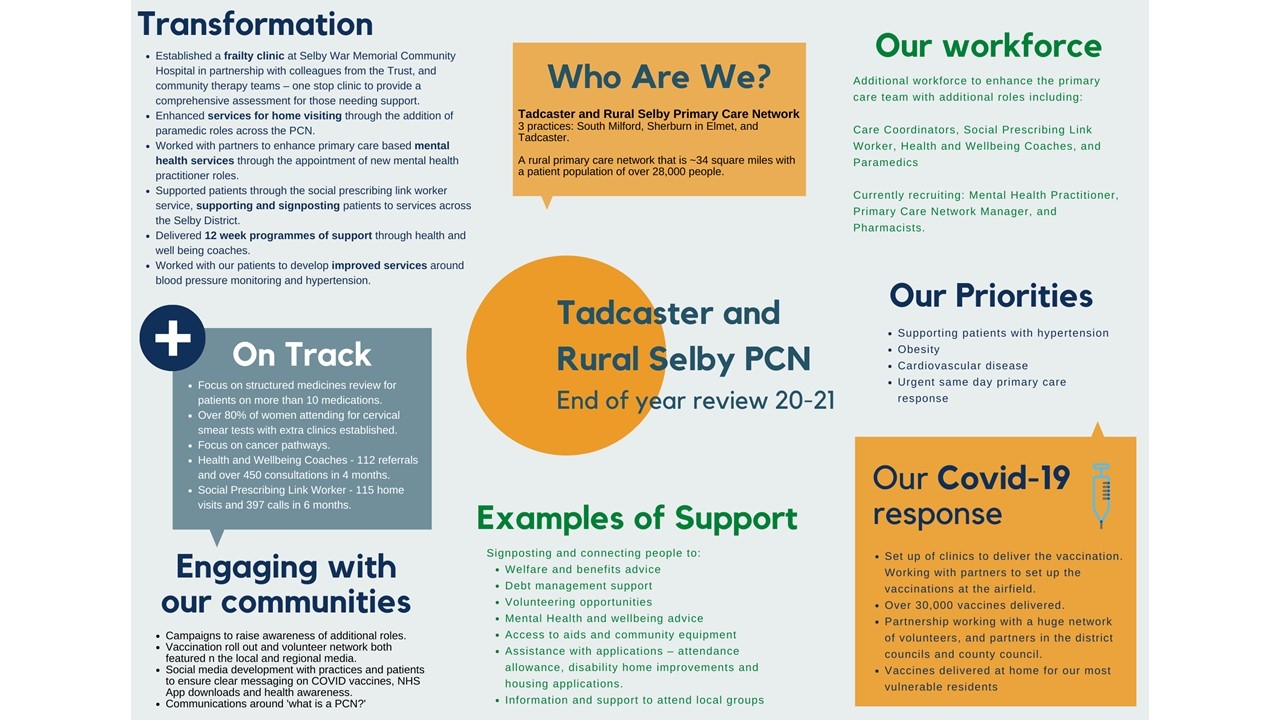 Local priorities
Our priority is to support the doctors and nurses in our practices to provide the medical care our patients need. Specific priority areas are:
Obesity 
Reducing inequalities 
Tadcaster and Rural Selby PCN is led by Dr Steve Lovisetto from South Milford Surgery and supported by GP Leads in each practice.
Dr Steve Lovisetto, PCN Clinical Director, GP Lead South Milford Surgery

Dr Steve Lovisetto trained at Sheffield Medical School before general practice training in Harrogate. He joined South Milford Surgery in 2002 and maintains an interest in traditional general practice. He recently stopped providing GP weekend cover at Selby War Memorial Hospital to take on the role of clinical lead for the network. It is a role that he hopes will help support his colleagues to provide the best possible care for our patients.

Practice Manager: Stephanie Drury

Dr Jocelyn Patel, GP Lead Sherburn Group Practice

Dr Jocelyn Patel came to Yorkshire over the Pennines from her home in Lancashire and has been a GP Partner at Sherburn Group Practice since 2002. Her interests include all aspects of women's health, dementia, working with local care homes, and safe and effective prescribing. She is an educational supervisor for the GP retainer in the practice and represents the interests of the patients and practice in the PCN.

Practice Manager: Tansy Shearston

Dr Wendy Reeves, GP Lead Tadcaster Medical Centre

Dr Wendy Reeves trained in Sheffield and became a Partner at Tadcaster Medical Centre in 1991 and is now the Senior Partner. She is a GP trainer and Training Programme Director for Harrogate GP training scheme. She enjoys all aspects of General Practice including being part of the development of the Primary Care Network to improve the services for the patients of all three practices.​

Practice Manager: Sarah Botherway

Stephanie Drury, managing partner and practice manager at South Milford

Stephanie is the lead for all the organisation of the PCN

Abigail Shaw, PCN Manager

Abigail has a BSc in Psychology and an MSc in Nutrition. She has worked in health and wellbeing for the past 3 years. Abigail has worked for the PCN since November 2020 and became the PCN manager in 2021. She is passionate about ensuring the smooth running of the primary care services and making a positive difference to the Tadcaster and Selby Rural communities.

Yasmin Foody, PCN administration 
Additional services being offered
The PCN is working closely with partners across the locality including Selby District Council, North Yorkshire County Council, voluntary sector colleagues, community services, York Hospital, and Tees Esk and Wear Valley Mental Health Foundation Trust.  These partnerships are vital to ensure that we work together to put our communities at the heart of everything that we do, improving our services together.  You will see some of these partnerships being demonstrated in the additional services below which will be on hand to help with a wide range of social, emotional, mental health and wellbeing issues.
Social Prescribing

Social prescribing provides a service to people who don't necessarily need the kind of help that comes in a tube or bottle. Instead, with the help of a wellbeing link worker, a patient receives a 'social  prescription' to provide support that will help them access activities to improve health and enjoyment in life. For example connecting people to community groups and relevant services for practical and emotional support.
Find out more about social prescribing here.
Tadcaster and Rural Selby PCN is supported by one Wellbeing Link Worker offering social prescribing services to patients across all three practices. If you're a patient within this PCN area then you can call your GP surgery and ask to see the wellbeing link worker. GPs and practice nurses can also refer you to a link worker and receptionists may automatically book you in with a wellbeing link worker if you are suitable for this service.
Resources are available to download here:
Karen Griffiths, social prescribing link worker

Karen has extensive experience in community health and social care, working in varied roles which include a young and young adult carer, employment advisor, fostering and adoption, NHS health care assistant and DIAL (disability information and advice line). Karen previously worked in the North Yorkshire County Council Living Well Team for three years before starting this PCN role.
Mental Health Care Coordinator
Amy Purdy

Amy studied at the University of Leicester and gained a BSc in Medical Physiology and has recently completed a Master of Public Health at University of York. Her interests include reducing health inequalities especially within mental health. She has recently started as a Mental Health Care Coordinator in August 2021 and is looking forward to shaping the new role and providing the best patient service possible.
Health and wellbeing coach
A health and wellbeing coach will be responsible for delivering group and one to one sessions on healthy eating, physical activity and health and well-being to meet with personalised care plans. The coach will play a critical role in engaging patients and use health coaching techniques to support them to take an active role in their health. This role works closely with those of low to medium complexity who will usually have one or more long term conditions.
Beatrice Hunt

Beatrice studied at Sheffield Hallam University and recently moved to North Yorkshire to work for the PCN. She is a Registered Associate Nutritionist and personal trainer, and has experience in nutrition research and weight management services. Her specialist area is obesity and weight management, but her other areas of professional interest include appetite, non-diet nutrition and issues around weight stigma and body image.

Sarah Morley

Sarah graduated from Manchester Metropolitan University with a BSc in Nutritional Sciences. Her areas of interest include clinical and sports nutrition. She has recently joined the PCN team in August 2021 as a Health and Wellbeing Coach and is looking forward to starting her new role. She is passionate about providing the best patient care and reducing health inequalities within the community.  
Clinical Pharmacist
A clinical pharmacist is responsible for implementing an effective medicine management system within the PCN practices, including cost-effective prescribing, working as an independent prescriber and providing advice and support for both patients and colleagues.
| | |
| --- | --- |
| | Coming soon... |
| | Coming soon... |
Urgent Care Practitioner 
An urgent care practitioner provides face-to-face or remote clinical assessment for patients, and decision making support for clinicians. This includes care for the presenting patient from initial history taking, clinical assessment, diagnosis, treatment and evaluation of care.
| | |
| --- | --- |
| | Coming soon... |
Community Parkinson's Nurse
A community Parkinson's nurse specialist is someone who will supports the individual needs of patients with Parkinson's disease by bringing care closer to home and helping to manage their degree of symptoms so that they can continue living their life.
Read more about this role and how it can support patients with Parkinson's Disease here.
Gillian Clark, Community Parkinson's Nurse Specialist 

As a Parkinson's Nurse Gillian helps patients to manage their symptoms so that they can get on with living their life. She liaises with PD Consultants and GPs and signposts to other healthcare professionals, such as Physiotherapy, Occupational Therapy, Speech and Language Therapy and the Mental Health Team, as well as with Social Services and Voluntary Services and Support services such as Parkinson's UK.                      

Gillian also supports patients in the South Hambleton and Ryedale PCN and Selby Town PCN.   
Press releases
Social prescribing in Tadcaster and Rural Selby GP practices a huge support to patients during COVID-19
Sherburn airfield set to host NHS flu vaccination site for local eligible patients
Students supported Vale of York GP practice by dispensing medicines to shielding patients
Patient case studies - coming soon
Feedback and comments about the PCN
GPs and practice managers across our three practices regularly meet to share information, discuss new roles and make joint decisions that will create better health outcomes for our patients. This has not stopped because of Coronavirus, but encouraged us to do more together and have plans in place to future proof the services offered in Tadcaster and Rural Selby

Employing one 'Social Prescribing Link Worker' to deliver services across our three GP practices has enabled a new cohort of patients to be identified and supported in ways more suitable to their needs.