South Hambleton and Ryedale Primary Care Network (PCN) has joined up with neighbouring surgeries who will be working together to improve health and care services and providing more of them closer to home.

SHaR PCN looks after a population of 34,967 people, it is led by Dr Paula Evans, Clinical Director and she is supported by GP Leads. 
This more joined up approach means that, over time, you may have increased and easier access to allied health professionals including clinical pharmacists, physiotherapists, community mental health workers and paramedics. Our teams also now include care coordinators assisting patients and their families with issues related to frailty, cancer and dementia care. Our first community specialist nurse works with patients with Parkinson's Disease. 
The PCN is made up of seven surgeries including:
GP practices working together as Primary Care Networks across the Vale of York have shared their highlights from a year of progress developing services and support for their local populations.
The South Hambleton & Ryedale Primary Care Network is made up of seven practices to the north of York, while seven practices in the Selby district are covered by Selby Town and Tadcaster & Rural Selby PCNs.
The PCN, which covers about 600 square miles, has been working with partners on earlier diagnosis and support for patients with dementia and has exceeded its target for learning disability health checks, among its list of highlights.
Its primary care team has also been boosted by 10 new posts including clinical pharmacists, social prescribing link workers and care coordinators.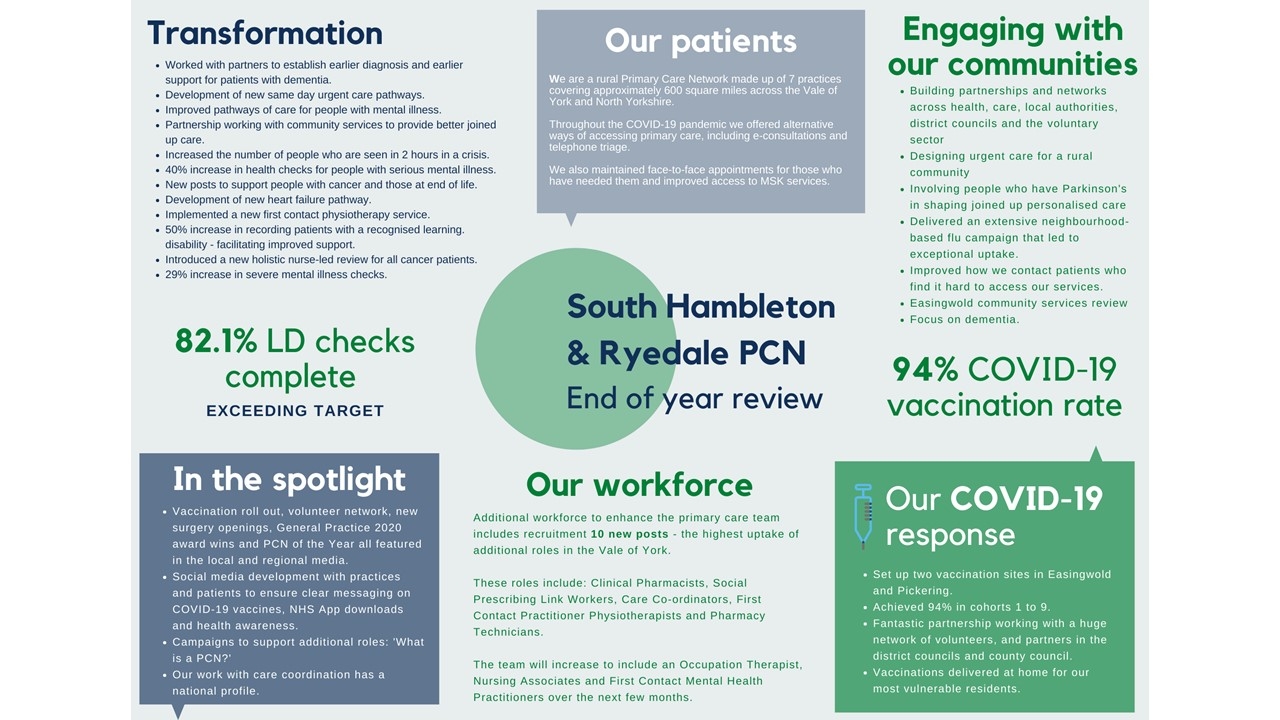 ---
Local priorities:
Dementia and frailty
Multi-morbidities
Cancer
Reducing inequalities and improving access
---
Roles within the PCN:
The South Hambleton and Ryedale PCN is led by Dr Paula Evans, Clinical Director. 
An enduring lively enthusiasm for General Practice has created a broad portfolio from clinical to medical education, commissioning, quality assurance, practice & organisational development roles and I'm based at the Millfield surgery in Easingwold.
Our PCN practices have well established working relationships and I'm relishing the opportunity PCNs give us to expand that out further into our wonderful rural communities, getting to know & understand their needs better, then co-designing more accessible services that improve health & wellbeing. 
Lead for Urgent Care and Improving Access, Dr Sarah Utting.
Moving from a large GP partnership in Brixton to Tollerton in 2007, I saw the challenges faced by small practices in managing the complex needs of rural communities, but also the great benefits from improved continuity of care.
Working with the CAVA federation and as Clinical Director of the Improved Access Project has contributed to the development of a truly integrated and cohesive inter-practice team that defines the SHaR PCN. I am excited by the prospect of making further substantial and sustained improvements to our community's health as we move forward together.
Lead for Quality Improvement, Dr Helena Ebbs.
A GP partner at Pickering Medical Practice since 2012 and Vale of York CCG Governing Body Representative for rural North Yorkshire residents since 2018.
My interests lie with reducing health inequalities, improving population health across the PCN and implementing change with robust quality improvement methodology. Reflecting the population I serve this predominantly focusses on frailty, cancer, dementia, rurality and the social determinants of health.
Lead Practice Manager, Heather White.
Originally working outside the NHS, I have been a practice manager for 15 years and currently manage the Helmsley and Terrington Surgeries. 
As the two surgeries were part of  the CAVA federation before joining the PCN, I have a number of years' experience of working in a lead role within a network of practices. As a HR professional, I provide specialist advice to the PCN as well as operational support.
The Leadership Team is supported by a number of other key roles - click here to view the SHaR PCN contact sheet
Additional services being offered
The PCN is working closely with partners across the locality including North Yorkshire County Council, Ryedale District Council, voluntary sector colleagues, community services, York Hospital, and Tees Esk and Wear Valley Mental Health Foundation Trust.  These partnerships are vital to ensure that we work together to put our communities at the heart of everything that we do, improving our services together.  You will see some of these partnerships being demonstrated in the additional services below which will be on hand to help with a wide range of social, emotional, mental health and wellbeing issues.
Care Coordinators - Care coordinators support GP practices and their patients to co-ordinate personal care needs. Read more about these roles and the holistic support they offer patients here.
Social Prescribing - Social prescribing provides a service to people who don't necessarily need the kind of help that comes in a tube or bottle. Instead, with the help of a wellbeing link worker, a patient receives a 'social  prescription' to provide support that will help them access activities to improve health and enjoyment in life. For example connecting people to community groups and relevant services for practical and emotional support.
Find out more about social prescribing here.
First Contact Practitioner Physiotherapists - Patients with back and joint pain, including conditions such as arthritis, will now be able to contact their local physiotherapist directly, rather than waiting to see a GP or being referred to hospital. Patients can also see a physiotherapist by speaking to the GP practice receptionist or by being referred by their GP.
By making it easier for patients to access physiotherapist, patients will have quicker access to diagnosis and treatment, helping them to manage their conditions more effectively and recover faster, so they can get back to normal life quickly.  They will help GPs to manage their workload more effectively, and reduce the need for onward referrals.
Community Parkinson's Nurse - A community Parkinson's nurse specialist is someone who will supports the individual needs of patients with Parkinson's disease by bringing care closer to home and helping to manage their degree of symptoms so that they can continue living their life.
Read more about this role and how it can support patients with Parkinson's Disease here.
Clinical Pharmacist - This is an internal facing role supporting medication reviews in care homes, working closely with the individual practices and the PCN as a whole. Patients may sometimes be contacted by a clinical pharmacist to review medications. 
---
News and updates
Shining a light on local communities helping to roll out the vaccine
Managing the COVID-19 vaccination programme is an enormous challenge across the NHS – but not everyone has had to rope in their local mountain rescue team.
Now a Pickering GP has shone a spotlight on how local communities have rallied round to overcome the area's acute challenges and help protect some of North Yorkshire's most vulnerable and isolated residents from the virus. Read more here
Community COVID-19 vaccination programme in South Hambleton and Ryedale continues
The rollout of the COVID-19 vaccine is continuing at pace across some of the most rural towns and villages in the Vale of York thanks to the help and support of staff and volunteers within the South Hambleton and Ryedale Primary Care Network (PCN).
Dr Paula Evans, Clinical Director for South Hambleton and Ryedale PCN, said: "Our GP practices are working together in groups to deliver vaccinations as quickly as possible to our patients initially aged over 80 years and to invite them into a community centre to be immunised safely. Read more here
Prestigious award win for Tollerton Surgery team member
The Extended Practice Team Member Award 2020, is a fantastic achievement and one of the most prestigious awards for a member of a GP practice team who has had a positive impact on improving patient care and practice efficiency.
Emma Wilkinson, an Advanced Clinical Practitioner at Tollerton Surgery, North Yorkshire has scooped this award at the national General Practice Awards 2020, announced this week. Read more here.
Pickering patients receive COVID-19 vaccinations
Eligible patients in the Pickering area most at risk of COVID-19 have begun to receive the much awaited vaccine. Pickering Medical Practice will be acting as a 'primary care hub' and will be vaccinating patients from their own practice and those registered at Kirkbymoorside, Helmsley and Terrington practices. Read more here
New surgery for Terrington
There was excitement in Tollerton, North Yorkshire last week as a brand new GP practice was formally opened. Tollerton Surgery had long outgrown its original site and has now unveiled a purpose-built premises fit for modern day practice.  Read more here.
'PCN of the Year' award in sight for North Yorkshire Primary Care Network
South Hambleton and Ryedale Primary Care Network within NHS Vale of York Clinical Commissioning Group has been shortlisted for a National Association of Primary Care award for improving elderly provision. Read more here
Primary Care Network demonstrates significant commitment to elderly population in award nomination
---
Blog posts
Dr Paula Evans: Demonstrating the power of place Read more 
Dr Helena Ebbs: Patient care in the new world of COVID-19 Read more 
---
Video playlist