Pressure ulcers are a major cause of harm and distress. They are serious, localised injuries to the skin and/or underlying tissue as a result of pressure, or pressure in combination with shear. They have a huge impact on a patient's quality of life leading to increased pain, risk of infection, depression and even death.
We are committed to supporting carers in providing best care and are participating in the NHS England  and Improvement work to roll out the React to Red initiative in care settings.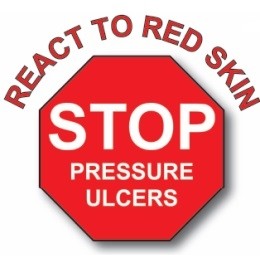 Pressure ulcers cost the NHS and care organisations in the UK around £6.5 billion per year, affect around 700,000 people every year and yet many pressure ulcers are avoidable if simple knowledge is provided and preventative best practice is followed.
The React to Red campaign focuses on supporting care homes and  domiciliary agencies across North Yorkshire and York.
React to Red includes an education package using a simple yet effective framework which supports carers in recognising when an individual may be at increased risk of pressure ulcer development and the simple steps that can be taken to avoid them.
The intensive face-to-face training programme - delivered by our nursing  team - has so far resulted in a 75% decrease in the incidence of reported pressure ulcers in care homes within the Vale of York locality, contributing to increased quality of life for residents.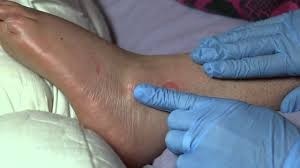 The full evaluation document can be viewed here.
The framework known as 'SSKIN' prompts carers to consider key areas important in maintaining skin integrity.
SSKIN stands for:
Surface - what mattress/cushion does the individual need?
Skin Inspection - regular skin inspection and empower individuals to check and report if possible 
Keep Moving - repositioning and regular movement
Incontinence/moisture - prevention of moisture damaging the skin
Nutrition - optimum nutrition and hydration
We were also shortlisted in the Nursing Times Awards 2019 as a finalist in the 'Care for Older People' category due to our React to Red work.
Additional resources:
VIDEO: The five key messages to prevent pressure ulcers (from Shropshire Community Health NHS Trust)
For further information please contact sam.varo@nhs.net