Holding providers to account for patients
As part of the CCG's legal duty, we monitor our providers' patient experience and feedback through a number of channels including contract management boards, through our patient relations team and our engagement activities.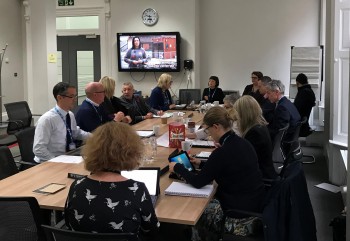 We capture feedback from service users about providers through compliments, complaints, patient experience feedback reports and the results from surveys. The Head of Engagement meets with the Patient Relations Team once a month to identify any trends in feedback. In addition visits to providers' services are undertaken to review the quality of services.
Managing the quality and patient experience of our providers:
The Quality Assurance Strategy 2018-21:
This Quality Assurance Strategy and accompanying framework sets NHS Vale of York Clinical Commissioning Group's (the CCG) objectives, responsibilities, and governance arrangements for the monitoring and assurance of quality in the services it commissions. One of the main objectives is to ensure that services commissioned are safe, effective, provide good patient experience and ensure continuous improvement.
Contract with providers:
The contracts we put into place with our providers set clear standards for the quality of care it (and any sub-contractors) must deliver.
The contract is managed by Contract Management Boards and relevant sub contract groups. These forums address performance against all quality requirements including patient experience and engagement. Each commissioned provider is required, contractually, to submit information on recognised indicators of the safety, quality and effectiveness of services, including patient experience information from internal and external surveys, Family and Friends, complaints and PALS information
Reviewing patient feedback with providers
We review and monitor patient experience and feedback with our providers.
Wheelchair service providers
We work closely with our wheelchair provider, NRS Healthcare, to monitor and respond to feedback from service users. In December 2019 we held a wheelchair forum with over 25 attendees. We invited NRS Healthcare to present to the audience and take questions from the public and service users about their experience. You can find out more information on our wheelchair service user forum page. 
Yorkshire Ambulance Service
We are working with Yorkshire Ambulance Service (YAS) to help with its monitoring of patient experience and feedback about their Patient Transport Services through:
Production of a Carer Survey – to understand more about the experience of carers and those they care for.
Attendance at Patient Participation Groups and forums – to provide feedback to patients and relatives about service provision in rural communities. In November 2019 the CCG head of Engagement invited  YAS to attend the Pickering Patient Participation Group to answer questions about its patient transport services for the Ryedale area.
Committee structure: monitoring quality, patient satisfaction and the patient's voice
Quality and Performance Committee (Q&P)receives monthly reports on provider performance against their respective quality and performance schedules.
Quality and Patient Experience Group (QPEC)meets bi-monthly and produces a detailed quality report reviewing all aspects of quality and patient experience/feedback for all providers. Reports and issues requiring escalation are then shared with the CCG's Governing Body at each meeting held in public.
Primary Care Co-Commissioning (PCCC) meeting occurs bi-monthly and has a pivotal role in receiving information to provide assurance on the quality and safety of primary care services.