During 2019 we went out into our local communities and ask what was important to them about how we involve our population in improving health and wellbeing across the patch.
What you told us is important about how we involve our population (2019)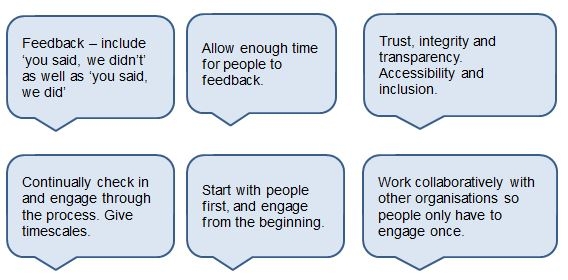 Our new engagement principles
These principles will underpin any of the communications and engagement work that we carry out within our communities.
| | |
| --- | --- |
| Principle | Description |
| Coproduce with our population | Ensure engagement is core to our planning, prioritisation and commissioning activities.  Involve people who use health and care services, carers and communities in equal partnership. Engage with our communities at the earliest stages of service design, development and evaluation. |
| Listen | Seek and listen to views of our partners, patients cares and other local citizens. |
| Honest and transparency | Hold honest, open and collaborative conversations from the start, so that people know what to expect. |
| Collaboration | Develop and strengthen relationships within the local community and across organisations. |
| Inclusivity and accessibility | Ensure accessible language and format, which is diverse and easy to understand for all communities. Ensure that those who may not always have the chance to have their say, such as seldom heard communities are represented. |
| Feedback and inform | Ensure that those who have given their contribution understand what difference it has made, and the feedback is provided in a timely manner. |
How we are adopting what you have said is important us about engagement and keeping you updated
In October o019 our Head of Engagement gave an update on how the views of the Healthwatch Assembly had shaped the CCG's engagement principles and strategy. This presentation has been used at several forums, and featured in our stakeholder newsletter, as a way of feeding back about some of the ways we adopting our new engagement principles in practice.
As part of  being honest and transparent, and showing that we are listening to our public our Head of Engagement publishes an Engagement Report every two months. This report is discussed at the Quality and Patient Experience committee and is updated to our website for people to access and read.
Your can view all the methods we use to feedback to our population on our closing the loop page.