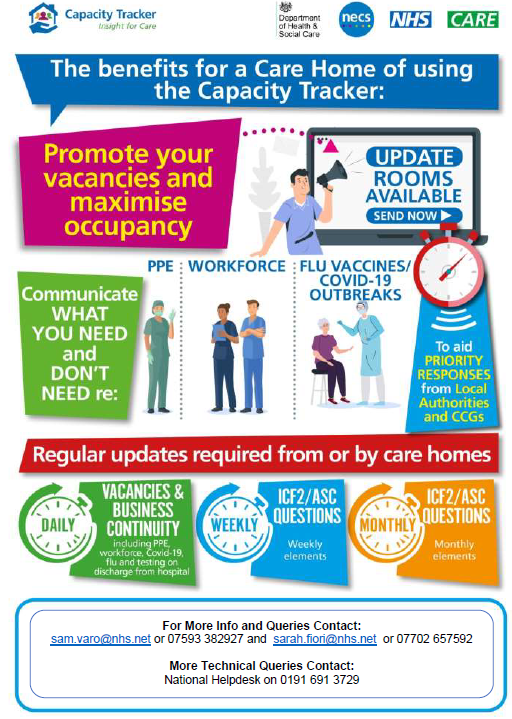 The Capacity Tracker is a digital portal designed by the North East Commissioning Support Unit in partnership with NHS England with the aim of making the discharge process into care homes more efficient  and improving a patient's transfer of care.
During the current COVID-19 outbreak, the tracker is also being used to collect information to help support care providers both at a local and a national level. Through the "Business Continuity" section, providers are being asked to submit information relating to COVID cases, workforce, PPE and flu vaccination. There are also a set of infection prevention questions which are required to be completed weekly in order to access an infection prevention fund from your local authority.
The tracker is also now used by supported living and domiciliary providers to make their daily submission around service users, staff absence, PPE supplies and extra hours available.
The above poster for care homes is available through this link to be printed off and used as prompt for which sections need updating when, and with contact details should you have a problem or query.
Please help us to help you by completing the tracker on a daily basis, which helps us and partner organisations identify any areas in which you may need support as well as wider trends across local providers
For assistance or more information regarding the tracker contact:
Sam Varo or phone 07593 382927  
Other Partners in Care Pages