Current research projects
There are many ongoing research projects and campaigns that you can get involved in that are set out below, some of which are supported by The National Institute for Health Research (NIHR).

You can also visit Be Part of Research to search for a research study most suitable for you.
UK-wide COVID-19 antiviral study launches

Researchers at the University of Oxford - in partnership with the National Institute of Health Research (NIHR) - are trying to find safe and effective COVID-19 treatments to help people to recover at home and you have an opportunity to help by joining a national priority study called PANORAMIC.

The trial aims to find antiviral treatments that reduce hospital admission and speed-up recovery for people with COVID-19, who are at home and in the early stages of infection. The first antiviral treatment to be investigated through the trial will be molnupiravir (brand name Lagevrio).

How to take part
To take part, you will need to have had a positive COVID-19 test result and be experiencing COVID-19 symptoms which started within the last five days. You also need to be aged 50 years and over, or 18 years and over with an underlying health condition, such as asthma.

Eligible participants can join online or over the phone from the comfort of their own home. We will courier all the information you need directly to you at home. You will also receive a symptom diary, and you may receive a treatment to take.

Find out more on Be Part of Research
---
PRINCIPLE trial for older people with Covid-19 symptoms
Help fight COVID-19 by aiding research. PRINCIPLE is a nationwide clinical trial from the University of Oxford to find COVID-19 treatments for the over 50s that can be taken at home. University of Oxford are looking for medicines that can help people with COVID-19 symptoms get better quickly and stop them needing to go to hospital. The trial is recruiting participants through this website and also through GP practices across the UK.
The University of Oxford are currently evaluating:
Usual care alone or 
Usual care + azithromycin (a commonly used antibiotic) or,
Usual care + doxycycline (a commonly used antibiotic)
Anyone experiencing COVID-19 symptoms, which started within the last 14 days may be eligible to join the PRINCIPLE trial if aged over 65; or over 50 with an underlying health condition.
The trial team can be contacted directly by email principle@phc.ox.ac.uk or telephone 0800 138 0880. Visit www.principletrial.org for more information.
Help shape future research priorities
Do you experience persistent pain, fatigue, dizziness/fainting, heart palpitations, stomach/bowel problems, problems with movement (tremors, shakes, weakness), unexplained blackouts, seizures/sudden loss of awareness?
We are looking for people with experience of these unexplained symptoms, their carers and healthcare professionals to complete our survey. Tell us your priorities for future research: Research Priorities for Medically Not Yet Explained Symptoms
GLAD study of Depression and Anxiety
This is the world's largest study of depression and anxiety funded by the NIHR and is part of the NIHR BioResource.
If you are 16+, living in England and ever had clinical or serious anxiety and/or depression? Patients with Bipolar Disorder, BDD, OCD or related disorders are welcome to join. Visit www.gladstudy.org.uk for more information.
Join Dementia Research (JDR)

JDR is pleased to announce that over 20,000 study participants have been involved in vital research thanks to Join Dementia Research. 
The innovative service allows anyone to register their interest in dementia research so that they can be matched to potential studies they may be eligible to take part in.  Stats released on Monday 5 August 2019, show 20,167 participants in total have now been recruited to studies. 
This is wonderful news, and an important milestone for Join Dementia Research. Launched in February 2015 in response to the Challenge on Dementia, the service has made it easier than ever for people living in the UK to take part in dementia research.  
If you haven't already signed up and are keen to support Join Dementia Research
please take a moment to log on and register online.
NIHR Involve
INVOLVE was established in 1996 and is part of, and funded by, the NIHR, to support active public involvement in NHS, public health and social care research. It is one of the few government funded programmes of its kind in the world.  For more information please visit www.invo.org.uk.
NIHR Centre for Engagement and Dissemination
The NIHR has launched a new Centre for Engagement and Dissemination that brings together its activities in patient and public involvement, engagement and participation with its strengths in research dissemination. Building on the work of the NIHR Dissemination Centre and NIHR INVOLVE, the new Centre will lead NIHR's work to make health and care research representative, relevant and ready for use. Further information can be found at online.
NIHR 'Your Path in Research' Campaign
This campaign aims to encourage more healthcare professionals to get involved in research, including the helpful 'four easy ways to get your research career started' guide.
Coinciding with the birthday of James Lind, a pioneer of clinical trials in the 1700s, Your Path in Research showcases a range of ways healthcare professionals can learn more about the research happening around them every day, as well as how they can take their first or next step in a research career with
the NIHR.
NIHR 'OK to ask' campaign 
The NIHR marked International Clinical Trials Day (ICTD) falls on 20 May each year, with its 'Ok to ask' campaign calling on patients and carers to ask their doctor about NHS research they can take part in.
In the last year 630,000 people across the UK volunteered to take part in a clinical trial or study. They do so because they want the chance to possibly benefit from new treatments. But also to help others like them, now and in the future, with their condition. For more information, click here.
NIHR I am research campaign
"I Am Research" gives patients, the public and health and social care research professionals a chance to shout about how fantastic research is. The aim is to raise awareness of the benefits of research and the positive impact it has on people's lives. Please visit click here for further information.
Campaign to Reduce Opioid Prescribing (CROP)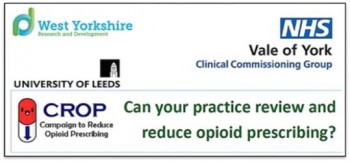 Many doctors and professional bodies are concerned about rising opioid prescribing in general practice. Much of this prescribing is for chronic non-cancer pain, which is often difficult to treat.
There is little evidence for the effectiveness of opioids in chronic pain but accumulating research indicating that the harms of opioids to patients can outweigh benefits. As well as addiction, prescribed opioids are associated with higher risks of hospitalisation, psychosocial problems, and premature death.
Additionally, 80% of patients taking opioids will experience at least one adverse effect e.g. constipation, nausea, itching, and dizziness. Therefore, we are undertaking a Campaign for the Reduction of Opioid Prescribing (CROP) across Vale of York CCG member practices to reduce opioid prescribing for chronic pain.
The CROP team is working with your practice and CCG to help reduce opioid prescribing and lower the risk of preventable complications by creating reports for practices to review the appropriateness of their opioid prescribing. We encourage practices to keep reviewing their prescribing of opioids. Potential risks should be carefully balanced in relation to patient benefit, and alternatives to opioids should be considered where appropriate.