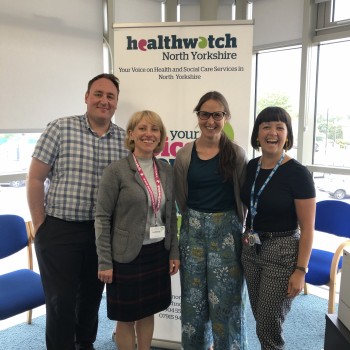 Healthwatch is the independent national champion for people who use health and social care services. Across the UK there are more than 150 local Healthwatch groups who represent their local population and find out what people want and to advocate for services that meet local communities' needs


We work closely with colleagues at Healthwatch York, North Yorkshire and East Riding to seek the views of patients, carers and service users.
The Vale of York patch covers three local Healthwatch organisations:
Monthly drop-in with Healthwatch
We hold a stall with Healthwatch York and East Riding in the foyer of West Offices, York, YO1 6GA on the second Monday of the month 10.30-11.30am. 
Healthwatch Assembly
We regularly attend and present at the York and North Yorkshire Healthwatch Assembly:
October 2019: Head of Engagement, Victoria Binks, gave an update on how the views of the Healthwatch Assembly had shaped the CCG's engagement principles and strategy. Feedback was also provided about action that had been taken from a recent Healthwatch report into the experiences of the LGBT community in accessing healthcare. 
July 2019: The CCG helped to facilitate table top discussions about the local response to the Long Term Plan.
January 2019: Victoria Binks, Head of Engagement for the CCG gave an update about how our conversations with our community have influenced our priorities for 2019-20. She also asked for feedback on the CCG's engagement principles to inform the new Communications and Engagement Strategy for 2019-22. 
January 2018, April 2018, October 2018 Dr Kev Smith, Executive Director for Primary Care and Population Health gave an update about how feedback from our community has influenced our priorities and commissioning intentions and how we are performing against our priorities. Our nurses gave updates about reducing pressure ulcers in care homes and working with patients with learning disabilities to break down barriers to care.
Voluntary forums
We work in partnership with a number of voluntary, community and social enterprise (VCSE) organisations across the Vale of York.
The sector includes organisations such as charities, not for profit organisations, community groups, social enterprises, civil society organisations and non-governmental organisations.
It enables us to build relationships and reach  'seldom heard' groups and communities.
We are regularly invited to and speak at voluntary sector forums run by local Centre for Voluntary Service (CVS) and Association of Voluntary Service  (AVS).