Engagement commissioning cycle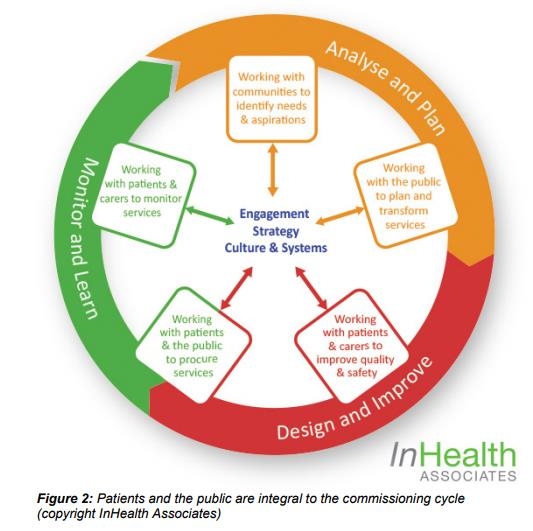 We are dedicated to engaging with local communities within all aspect of the commissioning engagement cycle.
Analyse and plan stage
Work with communities in identifying local health needs
Engage patients, carers and public in shaping future priorities
Encourage service uses and their families to share experiences to better inform our planning
Examples:
In 2019 we attended over 50 events and meetings where we gathered feedback and intelligence from our population. This is used to feed into the latest commissioning intentions and our priorities for 2019/20.
We asked expectant and new mums and families about the reasons why they may smoke during pregnancy and how we can offer support to help them quit. This feedback will help shape smoking prevention service.
Design and improve stage
Engage local people, providers and patients in service design and improvement.
Support patients, carers and the public to be involved in the procurement and contracting of new services.
Examples:
Service user involvement in the design of the specification for the re-procurement of the Community Equipment and Wheelchair services contract. We worked closely with local Healthwatch and set up a service user forum to help facilitate and feed into the transition between old and new provider, and to ensure that service user feedback was acted upon. This use forum continues into 2019-20 and provides valuable feedback to the provider of the service.
Working in partnership with the mental health service provider (TEWV) to involve patients and the public in the designs and development of a new mental health hospital for York.
We are worked with our partners and population to create an end of life care strategy and Citizen's Charter that aims to improve and further develop end of life care and support services. We went out to our local population to ask them their views and the strategy and Citizen's Charter was launched in May 2019.
Design and improve stage
Include patient experience and feedback in our contracts
Give patients a voice in on-going monitoring of provider performance
Share feedback with partners to help them continually improve
Examples:
The new quality reporting requirements for the recent patient transport contract now have an element which focuses specifically on service user feedback, patient experience.
Regular meetings with Healthwatch to gather and share intelligence on patient feedback
Report patient experience and involvement at the Quality and Patient Experience Committee bi-monthly