Health and Social Care- Achieving Excellence Together Conference 2023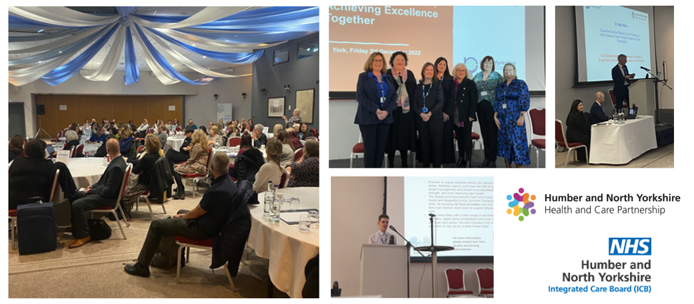 After the success of last year's event where over 200 individuals from across our sector joined us at the Achieving Excellence in Health and Social Care Conference, we're delighted to announce that bookings for this year's event taking place on 01 December 2023 at The Principal Hotel in York are now open! This day is open to all colleagues working across social care within North Yorkshire and York, as well as partners from health and wider organisations who work with the sector.
The event will bring together the latest local and national developments and quality improvements opportunities open to providers, and be our chance to share learning and best practice, and celebrate all the innovative work being led by our sector. Join us in December for your chance to hear about:
The offer from local health services to our care sector
Quality Assurance and Improvement Team– How can we support you in North Yorkshire and York?
Improving hydration and reducing UTI's and other avoidable harms together
Digital enablement opportunities to support you in your role
The importance of equipment in social care.
Research and Innovation in Adult Social Care
Opportunities to network and share your ideas and experiences with peers.
Fun and learning
Highlighting excellence and best  practice across social care.
We would really encourage providers to join us for what promises to be an inspiring and engaging day relevant to all within the sector. There will be the option to join us both in person or to be able to participate in the day virtually through Microsoft Teams. To register please use the links below- Don't miss your chance to join us as places are limited!
We want the day to be a celebration of our sector, therefore if any providers have any achievements, best practice examples and goo news stories from your service from 2023 you would be happy to share then please do get in touch. For any queries about the event please contact sam.varo@nhs.net
Feedback and Key Learning Points from Care Provider from Achieving Excellence in Health and Social Care 2022