Health and Social Care- Achieving Excellence Together Conference 2022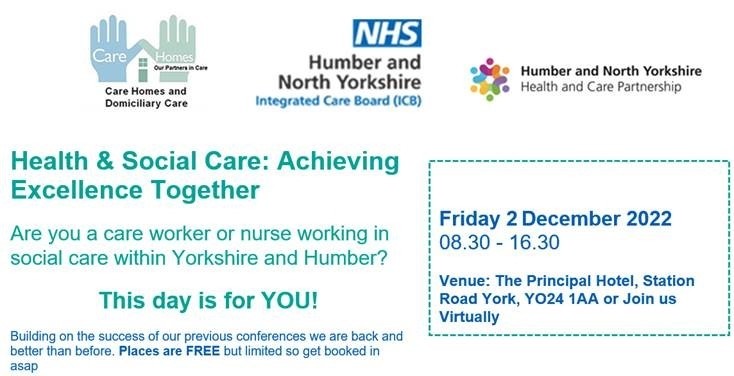 When: Friday 2 December 2022 8.30-4.30 at The Principal Hotel, Station Road York, YO24 1AA (Or join us virtually!)
We are delighted to announce that building on the success of a conference we held in 2019, we will be holding a follow up event this December which is open to all care providers and those who support them in a professional capacity from across our local area and beyond. This exciting day will aim to share with you the latest work happening in the care sector across York and North Yorkshire,and listen to your expertise and suggestions for working together as health and social care colleagues in the future. There will be range of speakers including Deborah Sturdy (Chief Nurse for Adult Social Care for England)- with a full list of speakers and topics listed below.
To view the full agenda please follow this link
Opening Remarks
Michelle Carrington- Director of Quality and Nursing.

York Health and Care Partnership

Rachael Bowes- Assistant Director, Adult Social Care. North Yorkshire County Council

Welcome
Deborah Sturdy- Chief Nurse for Adult Social Care, Department of Health and Social Care
ICS Transformation- What it means for Health and Social Care, and the role of GP Leads in Care Homes
Dr Nigel Wells- Local GP and 

Executive Director of Clinical and Professional &Corporate Affairs Office, NHS Humber and North Yorkshire ICB

Introduction to the Quality Assurance and Improvement Team. What is the offer to Care Providers in your area?
Sarah Fiori- Head of Quality Improvement, York Health and Care Partnership and Principal Nurse, North Yorkshire County Council
Quality Improvement in Action- Hydration

Quality Assurance and Improvement Team

Danielle Burlingham and Team- NYCC 5 Whitby Road Residential Home, Pickering

Nutrition in Care Homes- A Quality Improvement Project
Nicola Sumpter- Dietician, York and Scarborough Teaching Hospitals NHS Foundation Trust
Delegation of Blood Glucose Measurements and Insulin Administration in Care Homes
 

Tracy Means- Head of Nursing: Integrated Care, Care Group 1, York and Scarborough Teaching Hospitals NHS Foundation Trust

Tara Kadis- Lead Nurse for Diabetes and Endocrinology, York and Scarborough Teaching Hospitals NHS Foundation Trust

Liberty Protection Standards/Mental Capacity
Abigail Combes- Head of Legal and Governance. York Health and Care Partnership
Thinking Forward- Advance care planning: Why Does Thinking Forward Matter?
Dr Helena Ebbs- GP Clinical Lead for Quality, South Hambleton and Ryedale Primary Care Network (SHaR PCN
Learning from Incidents
Mel Johnson (Assistant Director of Patient Safety, Yorkshire & the Humber Improvement Academy) Dr Elizabeth Sweeting, Patient Safety Collaborative Workstream Lead/ GP Trainee, Yorkshire & the Humber Improvement Academy)
Digital Session
Neil Bartram- 

Business Relationship Manager, Technology and Change, North Yorkshire County Council

The Impact of Telemedicine in Care Homes

Rachel Binks- Nurse Consultant, Digital and Acute Care, Airedale NHS Foundation Trust

Heather Bygrave- Immedicare Relationship Team Manager, Airedale NHS Foundation Trust
Registration
To register your place for the conference then please follow the link below. Currently we are only accepting registrations to attend virtually, however if further in person places become available we will offer those to virtual attendees in priority order of registration.  By attending virtually, you will still be able to fully engage with the days proceedings by asking questions in the chat or verbally, and all attendees will be able to access the full recording and slides and resources from the day afterwards to share with colleagues. 
To Book Your Virtual Place Please Follow This Link
Getting to the Venue
The Principal Hotel is just steps away from York Station- so can easily be accessed from people travelling from across the region. For those wishing to travel by bus, the venue in serviced by a number of Park and Ride routes as listed below- Please alight at York Station
Number 2 from Rawcliffe Bar Park and Ride

Number 3 from Askham Bar Park and Ride

Number 7 from Designer Outlet Park and Ride

Number 9 from Monks Cross Park and Ride
Please note there is only limited parking available at the venue. Additional paid for parking can be accessed at the following locations which are all a 5 minute walk away:
Esplanade Car Park- YO26 4ZP

Tanners Row NCP Car Park- YO1 6JL

Nunnery Lane Car Park- YO23 1AA

York Station Long Stay Car Park- YO24 1AB
On the Day
The conference will take place in the Event Centre, which is a separate building within the hotel grounds. If you arrive through the  car or foot entrances to the right of the main hotel entrance you will be able to follow signs directing you to the event.
Registration will begin from 8.30 prior to the opening remarks at 9:00. There will be plenty of opportunity throughout the day to network with fellow attendees and view a variety of stalls showcasing work taking place in our area and opportunities available to care providers.  A hot meal will provided to all attendees from the hotel restaurant, with drinks and refreshments available also.
COVID-19 continues to circulate at a high rate in the community, so just a reminder that should you test positive or show symptoms we would ask please not to come to the event in order to protect fellow attendees. You are able to switch your booking to joining virtually through this link.
For any further queries about this event please contact sam.varo@nhs.net.