Children and Young People
Self Referral
Kooth.com for children and young people aged 11-25 is a free online service for mental health and emotional wellbeing support to help cope with the pressures of lockdown. It's a free, anonymous online counselling and emotional wellbeing service which can be accessed using a computer, smartphone or tablet device.
Children and young people can use Kooth for one-on-one online sessions with qualified counsellors, receive and provide peer-to-peer support through moderated online forums, and read and contribute articles.
Users can also keep an online journal and track their wellbeing via an interactive goal tracker.
Kooth can help support mental health and emotional wellbeing issues, such as stress and anxiety, which have been intensified by the Covid-19 pandemic and subsequent lockdown.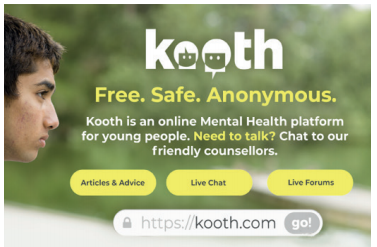 Referral
Guidance
North Yorkshire County Council, Selby and Easingwold services information 
---