Coronavirus (COVID-19) information
Last updated 01/06/20
Stay alert
We can all help control the virus if we all stay alert. This means you must:
stay at home as much as possible
work from home if you can
limit contact with other people
keep your distance if you go out (2 metres apart where possible)
wash your hands regularly
For information on what you can and can't do during lockdown, visit the Government's Covid-19 FAQ page.
Do not leave home if you or anyone in your household has symptoms.
The main symptoms of coronavirus are:
high temperature

 

– this means you feel hot to touch on your chest or back (you do not need to measure your temperature)
new, continuous cough

 

– this means coughing a lot for more than an hour, or 3 or more coughing episodes in 24 hours (if you usually have a cough, it may be worse than usual)
loss or change to your sense of smell or taste

 

– this means you've noticed you cannot smell or taste anything, or things smell or taste different to normal
Most people with coronavirus have at least one of these symptoms.
If you are experiencing these systems use the 111 online service and they  will tell you what to do and let you know how to get a test if you need one. If you can't get help using the 111 online service dial 111 by telephone.
Staying at home if you have symptoms (self-isolation)
If your symptoms are mild, NHS 111 will usually advise you and anyone you live with not to leave your home. This is called self-isolation.
Anyone with symptoms should self-isolate for 7 days from when their symptoms started.
Anyone who does not have symptoms should self-isolate for 14 days from when the first person in your home started having symptoms.
Read more about self-isolation if you have symptoms of coronavirus.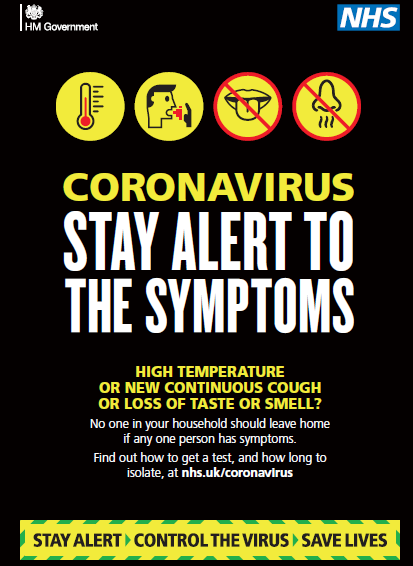 An open letter to GP patients from Dr Nigel Wells, Clinical Chair at the Vale of York CCG (25/03/20)
For the latest advice on coronavirus (COVID-19) visit:
The NHS website: https://www.nhs.uk/conditions/coronavirus-covid-19/
GOV.UK website: .https://www.gov.uk/guidance/wuhan-novel-coronavirus-information-for-the-public 
Department of Health and Social Care Coronavirus action plan: https://www.gov.uk/government/publications/coronavirus-action-plan
Guidance on self-isolation: https://publichealthmatters.blog.gov.uk/2020/02/20/what-is-self-isolation-and-why-is-it-important/
Information about contact tracing: https://publichealthmatters.blog.gov.uk/2020/02/13/expert-interview-what-is-contact-tracing/
General FAQs – https://publichealthmatters.blog.gov.uk/2020/01/23/wuhan-novel-coronavirus-what-you-need-to-know/
Antibody testing for Covid-19 (03/06/20)
Caring for people at highest clinical risk during Covid-19 - sources of information for people who are shielding (01/06/20)
8 May 2020 bank holiday pharmacy opening times (04/05/20)
Who's at higher risk from coronavirus? (04/05/20)
York Hospital: Easy read - Going to the hospital because you are poorly with symptoms of Coronavirus (COVID-19) (15/04/20)
York Hospital: Covid 19 – People with Learning Disabilities and their carers- FAQ (15/04/20)
Advice for parents when your child is unwell or injured during coronavirus (14/04/20)
Coronavirus (covid-19) information resources in South Asian languages (09/04/20)
Important information on prescriptions during the COVID-19 epidemic (09/04/20)
Guidance on staying at home for people with confirmed or possible coronavirus (COVID-19) infection
NRS Wheelchair Service Covid-19 statement (26/03/20)
RCOG Guidance for pregnant women
Easy-read COVID-19 information from Mencap (30/03/20)
May bank holiday pharmacy opening times (22/05/20)
Humber, Coast and Vale - Understanding our response to COVID-19 (16/10/20)
PPE video in British Sign Language (26/10/2020)
GOV.UK WhatsApp Coronavirus Information Service
A new GOV.UK WhatsApp Coronavirus Information Service has now been launched. The purpose of this product is to combat the spread of misinformation propagated through WhatsApp on an Official Government channel. To use the service, members of the public simply add +44 7860 064422 to their contacts and send a WhatsApp message saying "Hi". Please promote this service through your channels.
Patient Transport Service - change to booking processes
In response to increasing system pressures the Patient Transport Service is implementing an interim change to booking processes.    Requests for transport to and from outpatient appointments can now only be booked up to three working days prior to the scheduled appointment.   

Journeys for priority patients (renal and oncology) and on-day discharges can continue to be booked at any time
Contacting the CCG as it follows the new government COVID-19 guidance
NHS Vale of York CCG is following the national guidance to enable staff to work from home and limit contact with others. This means that staff are no longer routinely office based and that it is not possible to check any post delivered for the foreseeable future.  
Correspondence
If you have written to the CCG after 23 March 2020 please assume that your correspondence has not been collected and this should be submitted electronically.
If your correspondence relates to a concern or complaint this should be directed to patientrelations@nhs.net.  Alternatively you could speak to a member of staff by calling 01904 555 999 or 07702 657 562 who will be pleased to assist.
Referrals
The Choice Office will no longer be able accept any routine ophthalmology referrals including those for cataracts. Urgent referrals can still be sent via the patient's GP and very urgent directed to the hospital as per the usual process.  We suggest Optometrists ask patients to contact you when the coronavirus pandemic is over to discuss being referred then. We will let you know when the hospital is able to accept routine referrals again.  We would not advocate opticians or GP practices holding lists of patients who need to be re-referred.  This restriction also applies to all cataract referrals. Patients should be advised to ring yourselves in the first instance or their GP practice if their eye condition worsens for advice. Should you need to contact the Choice Office team please by email VOYCCG.Choice@nhs.net
The Referral Support Service will no longer process any routine referrals as GPs have been asked not to refer routinely . 2WW and Urgent referrals should continue to be referred electronically via ICG to the RSS.  Should you need to contact the RSS team please do this by email at VOYCCG.RSService@nhs.net
Mental health and wellbeing
Government translated the guidance for self-isolation and social distancing
Guidance on social distancing for everyone in the UK, including children, and protecting older people and vulnerable people is available in the following languages: Arabic, Bengali, Cantonese, Mandarin, French, Gujarati, Polish, Portuguese, Punjabi, Urdu, 
Guidance for health professionals
Supplementary privacy notice during Covid-19 pandemic
< Back to all news stories