Vale of York care home rated 'Outstanding' by CQC
The Care Quality Commission (CQC) have rated a Vale of York care home 'Outstanding', describing it as an "exceptionally" effective and well led service in their latest report.
RMBI Care Co. Home Connaught Court in Fulford provides residential, nursing and dementia care for up to 94 residents. The inspection carried out between 12 November and 20 November 2019 found that "People were treated with kindness; they were actively listened to and their choices respected."
The report highlighted the Home's activity programme, designed to prevent social isolation. The report said: "People regularly engaged in the local community. They were supported to visit old schools, work-places and events such as cricket games."
It was also recognised how residents were supported to remain as independent as possible: "People were encouraged to look after one of the many animals within the service including birds, rabbits and chickens."
CQC also praised the quality of the Home's dementia support describing areas of the Home for those with dementia as 'homely and informal with a calm and relaxed atmosphere'.
NHS Vale of York Clinical Commissioning Group (CCG), work with Connaught Court to deliver training which supports staff in delivering the best care to residents.
Michelle Carrington, the CCG's Executive Director of Quality and Nursing said: "The 'Outstanding' CQC rating is very well deserved and great recognition of the dedicated work Connaught Court staff do to keep residents safe, happy and well."
Importantly, the report described staff working at Connaught Court as "extremely knowledgeable in their roles" reflecting a priority staff have on keeping residents as safe and as independent as possible.
Victoria Wilson, Connaught Court Home Manager said: "We are absolutely thrilled at receiving this rating from the CQC. We are passionate about ensuring an excellent standard of care and committed to providing the best support possible for our residents."
RMBI Home Connaught Court is run by RMBI Care Co., who support over 1,000 people across 18 care homes in England and Wales.
Mark Lloyd,Managing Director of RMBI Care Co., said: "We have an amazing team in place at the Home who at all times focus on the wellbeing and quality of life of people living at the Home. It is fantastic to see this reflected in our regulator's report."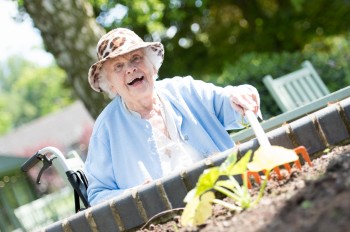 < Back to all news stories