University students in York encouraged to register with a GP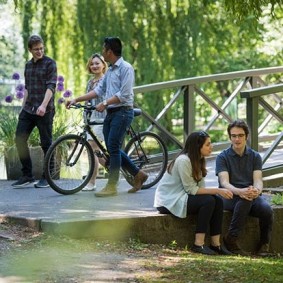 With university students preparing for the new academic year in York, a local GP is encouraging new and returning students to register with a practice in the city as soon as they can.
Students who live away from home while studying at university are always recommended to register with a practice that is close to their term-time address so that it is easily accessible when they need it.
Healthcare facilities are located on campus at both universities, and there are also a number of surgeries across York that students can register with. Everyone who registers with a practice may be asked to complete a registration form and questionnaire, but does not need proof of ID.
Dr Samantha Plummer, a GP Partner at Priory Medical Group, said: "Starting university is an exciting time for students. Many will be experiencing living away from home for the first time and it is really important that they look after their health.
"One of the best ways to do that is registering with a local GP, which provides quick access to health services when they are needed. It is especially important for anyone with an ongoing condition, such as diabetes or asthma, or who needs regular prescriptions.
"There are lots of ways to access care in general practice and I encourage everyone to check your practice website for more information."
Mixing with lots of people from across the country and overseas means that students are at greater risk of catching infectious diseases – including mumps, meningitis and HPV.
Students should ensure they are protected before the term begins as many of these illnesses arise at the start of the academic year. More information about NHS vaccinations and when to have them can be found on the NHS website.
Those who are concerned that they are not up to date with the free vaccinations can speak to their GP to request a vaccine. Anyone who has not yet had the first, second or booster COVID-19 vaccine can book an appointment online via the National Booking Service.
Pierrick Roger and Hannah Nimmo, the President and Community & Wellbeing Officer at York University Students' Union, said: "It is really important that students prioritise their own health. GPs allow access to a massive range of services that can help students with emergency care, chronic conditions, prescription management, and more.
"At YUSU, we encourage students to register with a local GP as soon as they arrive in York because they may require healthcare assistance while away from home. It is especially important for our international students to register so they can access healthcare in the UK."
Christian Smith, President of Wellbeing and Diversity at York St John Students' Union, said: "As a former student, I really recommend that you sign up to a local GP whilst you are studying at university. This will ensure you have access to the right health care whenever you need it.
"Your local GP will ensure you have the right vaccinations for your time at university, as you could find yourself exposed to viruses such as the mumps with lots of new people mixing together for the first time.
"It doesn't take long to register and you can have peace of mind should you need to seek medical advice or attention!"
University of York students can register with Unity Health, the on-campus GP practice, by completing the online registration form.
York St John University students can register with the Student Health Centre, which is located on campus in Quad East, by picking up a registration pack from the surgery or registering online.
More information about local GP surgeries, including what services they offer and how to register, is available on the NHS website.
< Back to all news stories