Special Delivery! New Maternity website launches in the Vale of York
A new website which serves as a comprehensive online guide to pregnancy, giving birth and beyond has been launched in the Vale of York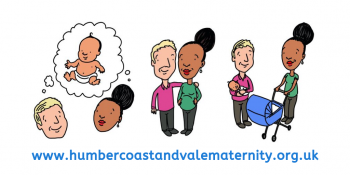 The Humber, Coast and Vale Local Maternity System has created www.humbercoastandvalematernity.org.uk to support people who are thinking about having children, who are already pregnant or who have recently had a baby.
The website has been designed to be a single point of information for people wishing to learn more about maternity services in Humber, Coast and Vale, so they are able to choose the most appropriate place to receive care based on their needs.
Among the interactive features on the website is a map which shows the hospitals, midwifery units and birth centres where you can give birth in Humber, Coast and Vale, and the different facilities they offer. The website also features a timeline which explains how your baby is growing and developing during the course of pregnancy.
The website also features lots of antenatal and postnatal information to help you and your family and friends, including advice on what you should do when you find out you are having a baby, what to expect during the various stages of pregnancy, advice on staying healthy while pregnant and signposting to the many different support services available in your local area.
The Humber, Coast and Vale Local Maternity System is a partnership of organisations, women and their families working together to deliver improvements in maternity services in  Hull and East Yorkshire, North Lincolnshire and North East Lincolnshire, Vale of York and Scarborough and Ryedale.
The vision for maternity services in England, as outlined in the Better Births report in 2016, is for them to become safer, more personalised, kinder, professional and more family friendly; where every woman has access to information to enable her to make decisions about her care; and where she and her baby can access support that is centred around their individual needs and circumstances.
Becky Case, Humber, Coast and Vale Local Maternity System Programme Lead, said: "Having a baby is a major life event and while it is usually an extremely joyful occasion, it can also be a time of great uncertainty, especially if you are having your first child.
"It's perfectly normal to have loads of questions during this time and while your midwife and GP can answer any questions you might have, you can also find the information you are looking for on the newly launched www.humbercoastnadvalematernity.org.uk website -  which is a comprehensive online guide to pregnancy, childbirth and beyond."
Ruth Prentice, Independent Chair of the Humber, Coast and Vale Maternity Voices Partnership Group, said: "The Humber, Coast and Vale Local Maternity System website has been developed using feedback from those who provide and receive maternity care in the Humber, Coast and Vale area.
"Their collaboration has been invaluable to ensure that the website contains all the necessary information about local maternity services in one easy-to-access place and is therefore a useful resource for people living in our area."
For more information, visit www.humbercoastandvalematernity.org.uk
< Back to all news stories