Patients living with cardiovascular disease given greater control over their health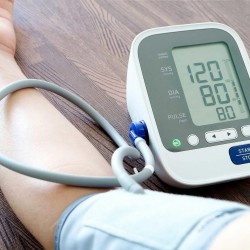 GP practices in the Vale of York are enabling patients to monitor their blood pressure at home to improve the management of cardiovascular disease in the region.
Increasing the availability of home blood pressure monitors is an effective and inexpensive way to keep blood pressure under control, allowing patients to improve how they manage their high blood pressure (hypertension).
The change means that those living with cardiovascular disease can take greater control of their health and feel more confident. As there is no need to visit a GP, practice nurse or pharmacist in person, the home monitors can prevent anxiety caused by attending healthcare settings.
Remote management of hypertension will also help to reduce pressures on NHS services which have recently seen surges in demand as a result of the COVID-19 pandemic, freeing up staff to see other patients.
Peter Roderick, Consultant in Public Health at NHS Vale of York Clinical Commissioning Group (CCG), said: "Home blood pressure management was identified as a priority during the pandemic to limit the number of at-risk patients entering healthcare settings. We are expanding the availability of the monitors now because we understand that remote monitoring can provide considerable benefits to those living with hypertension.
"Enabling patients to manage their high blood pressure at home puts them in the driver's seat and can save lives by preventing heart attacks, strokes and other illnesses."
NHS England and the Yorkshire and Humber Academic Health Science Network have allocated home blood pressure monitors for all GP practices in the Vale of York. Previously, a limited number were available which helped to develop the scheme and will ensure the delivery of monitors runs smoothly as more become available.
Patients who are eligible to receive a monitor include those who have had a previous stroke or are clinically extremely vulnerable, with previously recorded high blood pressure. GP practices will identify and provide those who are eligible with a monitor and specially developed resources, including information leaflets and a blood pressure diary.
Around a third of people in the UK have high blood pressure, but most do not know about it because of the lack of symptoms. Know Your Numbers! Week, organised by Blood Pressure UK, takes between 6-12 September and encourages people to better understand their blood pressure so that they can get support to get it under control and prevent serious health issues.
< Back to all news stories