New dates added – North Yorkshire calls its health and social care equipment and wheelchair users to 'get involved'
Local Clinical Commissioning Groups (CCGs) and North Yorkshire County Council have joined forces to call for the opinions of local health and social care equipment users.
Health and social care equipment includes mobility and communication aids that help to support adults and children to live independently at home. Examples include shower chairs, perching stools, kettle tippers, pressure relieving mattresses, wheelchairs, etc.
Dr Lorraine Boyd, a GP working in Easingwold, North Yorkshire said: "We want to commission services that are driven by the needs of local people and the views and experiences of service users and patients are fundamental to achieving this.
"CCG's in North Yorkshire and its County Council partners are working together to commission improved equipment and wheelchair services. A series of drop-in sessions in December 2015 and January 2016 have been created to take place across North Yorkshire. We are asking local service users to drop-in and share their views. There is no need to book, just come along.
"For people who are unable to attend the drop-in sessions we have created a survey – this means that everyone has an opportunity to have their say, be it face to face or sharing their views through a series of survey questions."
The surveys are available at www.surveymonkey.co.uk/r/equipmentandwheelchairs
Hard copies of the survey are available too and these can be requested by phone 01904 555 870 or email valeofyork.contactus@nhs.net.
A number of sessions have already taken place in December; with new dates added in January 2016, as below.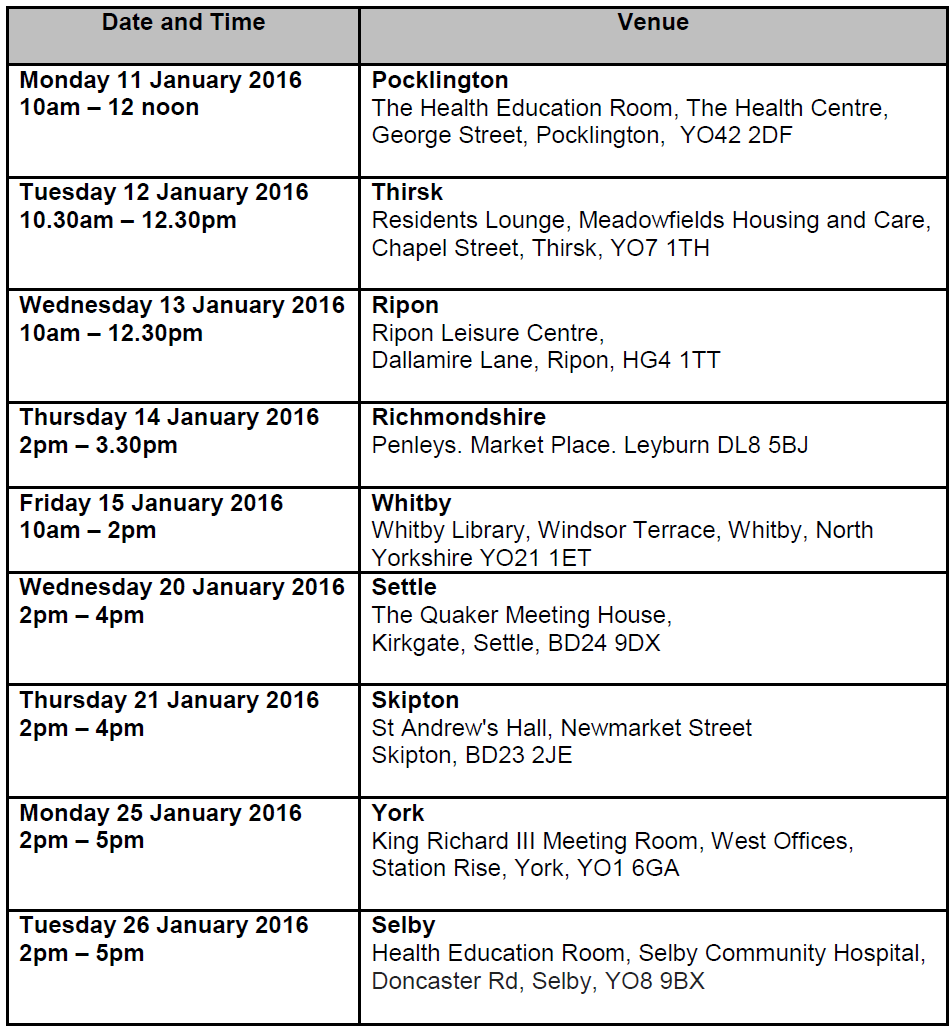 < Back to all news stories