Move over, Mo Farah! Local health manager Mary runs Great North Run for charity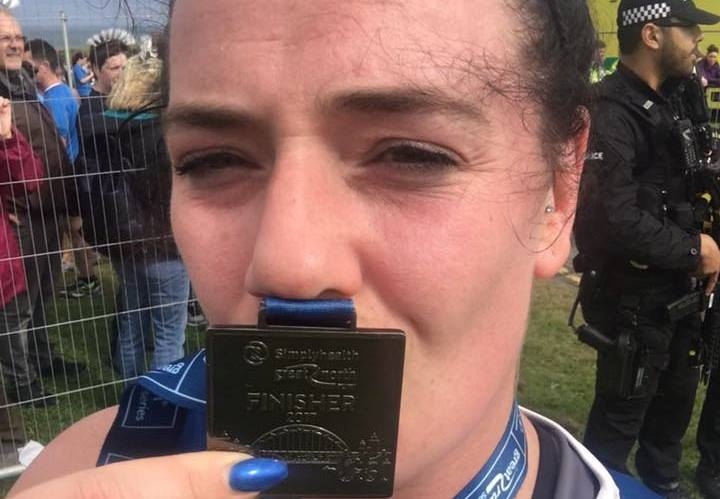 A NHS Vale of York Clinical Commissioning Group employee has raised more than £1,000 for a York-based mental health charity by running the Great North Run.
Mary Hughes, the CCG's business manager, completed the 13.1-mile race in Newcastle on Sunday 10 September in support of York Mind – and her feat has been met with generous donations from family, friends and colleagues totalling nearly £1,100.
Mary decided to run the race to raise funds for York Mind, a charity which provides mental health services in the city and surrounding area, after losing a friend to mental illness and experiencing her own personal challenges.
She said: "I decided to run the Great North Run because I really wanted to do something to help and, also having personal challenges myself, I wanted to push my own boundaries.
"One of my best friend's husband unfortunately lost his life to mental illness and I had his name on the back of my top. So it's nice to think that, if I was reading everyone else's messages and they saw his name and the charity I was running for, then they might've felt the same way I do - proud.
"I chose York Mind because I saw one of their stalls at work and spoke to them about running (to raise money), because one of the things that used to really help me was running.
"They want to create awareness for mental health but they also want to help people with their recovery and try to get them back. Sometimes people don't (recover) but it's just having the funds to do that because everyone's road to recovery is different."
Mary, who has worked for the NHS for six years, started training for the race in April and completed the course in a time of two hours and 39 minutes – some 99 minutes shy of Mo Farah's race-winning time of one hour and six seconds but a commendable effort nevertheless.
She said: "By the time I went over the line, Mo Farah was nine minutes away from the end. People asked, have you seen Mo Farah?' and I was like, 'He was an hour and 40 minutes in front of me!'.
"I've never felt such a great sense of personal achievement. My husband and one of my best friends were stood at mile 12 so I knew I had to get there. My husband jumped out at me and tried to give me a kiss and then ran alongside me so it was really nice and I felt a bit overwhelmed.
"I got really emotional and upset once I crossed the finish line because, not only had I done it for myself, I also raised over £1,000 for a charity that's all about mental Illness and creating awareness - so I feel proud that someone's going to benefit from the money I've raised."
Although the Great North Run only took place earlier this month, Mary has already set her sights on running further races in the future to raise more money and awareness for good causes.
"I think I want to do it again because my husband thinks he can do it in an hour and 45 minutes so I'm thinking, 'Right, let's see that, let's see what you do with that'. The furthest I'd ever run before the Great North Run was the York 10K.
"It's about creating awareness of the signs and symptoms of somebody who's struggling mentally and that it's okay not to be okay. It's wanting to make sure that people are aware."
Phil Mettam, the CCG's accountable officer, said: "Everyone at the CCG would like to congratulate Mary for completing the Great North Run and for raising nearly £1,100 for York Mind, which provides fantastic support to people with mental health issues in York and the surrounding area.
"I know Mary put a lot of time and effort into training in the months leading up to the race so she should be thoroughly proud of her achievement."
Holly Bilton, York Mind's community fundraiser, said: "We're so thrilled that Mary chose to fundraise for York Mind with her first Great North Run experience, and it is especially touching that Mary was inspired to run in memory of her friend.
"It's also a wonderful bonus to know that Mary has found her running helpful personally too. On behalf of everyone at York Mind, thank you to Mary and to everyone who sponsored her for completing this epic challenge – we are all very proud of you."
< Back to all news stories