Local GPs encourage university students in York to get registered as the new term begins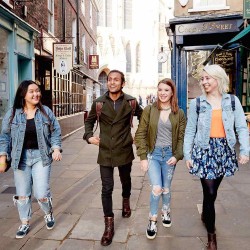 With the academic year about to start in York, local GPs are encouraging new and returning students to register with a practice in the city as soon as they can.
Those who live away from home while studying at university are always recommended to register with a practice that is close to their term-time address so that it is easily accessible when they need it.
Healthcare facilities are located on campus at both universities, and there are also a number of surgeries across the city that students can register with. Everyone who registers with a practice may be asked to complete a registration form and questionnaire, but does not need proof of ID.
Students in York will also have the opportunity to grab the COVID-19 jab on campus, with drop-in clinics popping up at the University of York Sport Centre and the Chapel at York St John University. The clinics can be attended without being registered with a GP or needing to book in advance.
Dr Abbie Brooks, a GP Partner at Priory Medical Group, said: "I can still remember the excitement of starting university that lots of students will be experiencing. Many will be living away from home for the first time and it is really important that they look after themselves.
"One of the best ways to do that is registering with a local GP. Getting registered is easy and allows you to quickly access health services when you need them. It is especially important if you have an ongoing health condition, such as diabetes or asthma, or need regular prescriptions.
"There are lots of ways to access care in general practice and I encourage everyone to check your practice website for more information."
Professor Mike Holmes, Chair of Nimbuscare, said: "As student life resumes in York, young people will be meeting hundreds of new people and attending lots of events.
"Students can get the best possible protection against COVID-19 by getting the vaccine at one of our convenient drop-in clinics on campus. Being fully vaccinated will go a long way to minimise further disruption to universities and allow you to enjoy our incredible city."
Patrick O'Donnell, President of York University Students' Union, said: "It's really important that students register with a local GP in York, in order to access healthcare services and prescriptions, and to be notified when they might be eligible to have their COVID-19 vaccination. It's easy to do, and can be done online in just a few minutes.
"I'm proud that over 90% of York students have already had a first or second dose of their COVID-19 vaccine. This means they'll be better protected in the months ahead, and play a key part in helping to keep everyone in our local community safe, as we return to everything that our campus and our city has to offer."
Mixing with lots of people also means that students are at greater risk of catching other infectious diseases – including mumps, meningitis and septicaemia.
Those who are concerned that they are not up to date with their free vaccines can speak to their GP and ask for a vaccine. More information about NHS vaccinations and when to have them can be found on the NHS website.
University of York students can register with Unity Health, the on-campus GP practice, by completing the online registration form.
York St John University students can register with the Student Health Centre, which is located on campus in Quad East, by picking up a registration pack from the surgery or registering online.
To find more information about local GP surgeries, including how to register, visit nhs.uk/register.
< Back to all news stories