Know your local pharmacy's Easter opening times
Vale of York residents are being urged to check the location of their nearest open pharmacy during the Easter holidays in case they need access to medicine or healthcare advice.
While GP surgeries will be closed over Easter, some pharmacies will be open and can offer treatments and free advice on common illnesses and ailments, including colds, flu, minor rashes and pain relief.
People who use regular prescribed medication should also make sure they order and collect any prescriptions in good time before the holidays begin to ensure they don't run out of medicine.
Below is a comprehensive timetable showing which Vale of York pharmacies (in York, Selby and Pickering) are open during Easter (Good Friday to Easter Monday, 30 March - 2 April).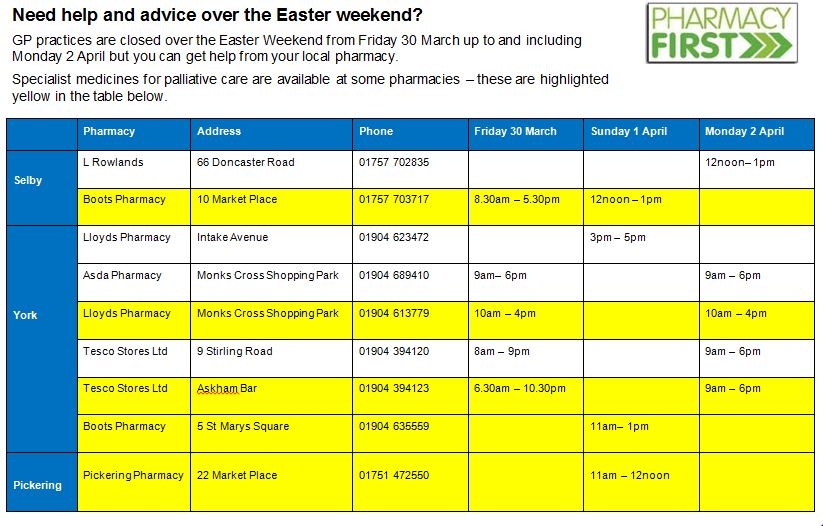 The timetable can also be viewed on the NHS Vale of York Clinical Commissioning Group (CCG) website: www.valeofyorkccg.nhs.uk/data/uploads/think-pharmacy-first-easter-2018.pdf
Dr Shaun O'Connell, a local GP and the CCG's Joint Medical Director, said: "Every pharmacist is trained in managing minor illnesses and providing health and wellbeing advice, so they can provide many of the same services that GPs do.
"They don't require you to book an appointment and are often open at times of the day when your GP surgery might be closed – such as during the Easter break."
You can self-treat many minor illnesses and injuries at home by keeping your medicine cabinet and first aid kit well stocked with medicines such as paracetamol and ibuprofen.
Using a pharmacy or consulting self-care resources for minor health concerns helps to free up GP appointments for those who really need them, as well as to take the pressure off A&E departments, freeing up staff there for real emergencies.
You should call free NHS non-emergency number 111 if you have an illness or injury that needs treatment quickly but is not life-threatening.
When you call NHS 111 - which is available 24 hours a day, 365 days a year - you will be directed to the most appropriate medical care by a highly trained adviser who is supported by healthcare professionals.
If you have a medical emergency, such as breathing difficulties, chest pains or if you've been in a serious accident, call 999 for an ambulance or go to the nearest emergency department, which in the Vale of York is located at York Hospital.
< Back to all news stories