Health leaders highlight importance of peer-led learning for primary care staff
Local GPs and primary care staff are being enabled to deliver care that meets the changing needs of patients in the Vale of York through learning and development opportunities.
Protected Learning Time gives health workers the opportunity to come together and take part in peer-led workshops with the goal of creating a better-connected care system that improves services and outcomes for patients.
Since starting in January 2019, the events have facilitated more than 2,000 learning opportunities for staff working in general practices across North Yorkshire and York. Workshops have focused on topics that are relevant the people in the local area and have included: cancer screening, dementia care and mental health.
Dr Nigel Wells, Clinical Chair of NHS Vale of York Clinical Commissioning Group (CCG), said: "Our patients are at the centre of everything we do, which is why it is important that primary care staff continue to ensure local services meet the changing needs of the population.
"Protected Learning Time has gone from strength to strength since its launch and I am delighted that it has succeeded in bringing together colleagues from across our region to share and learn. We recognise the value of learning and development time, and we want to maintain this momentum moving forward."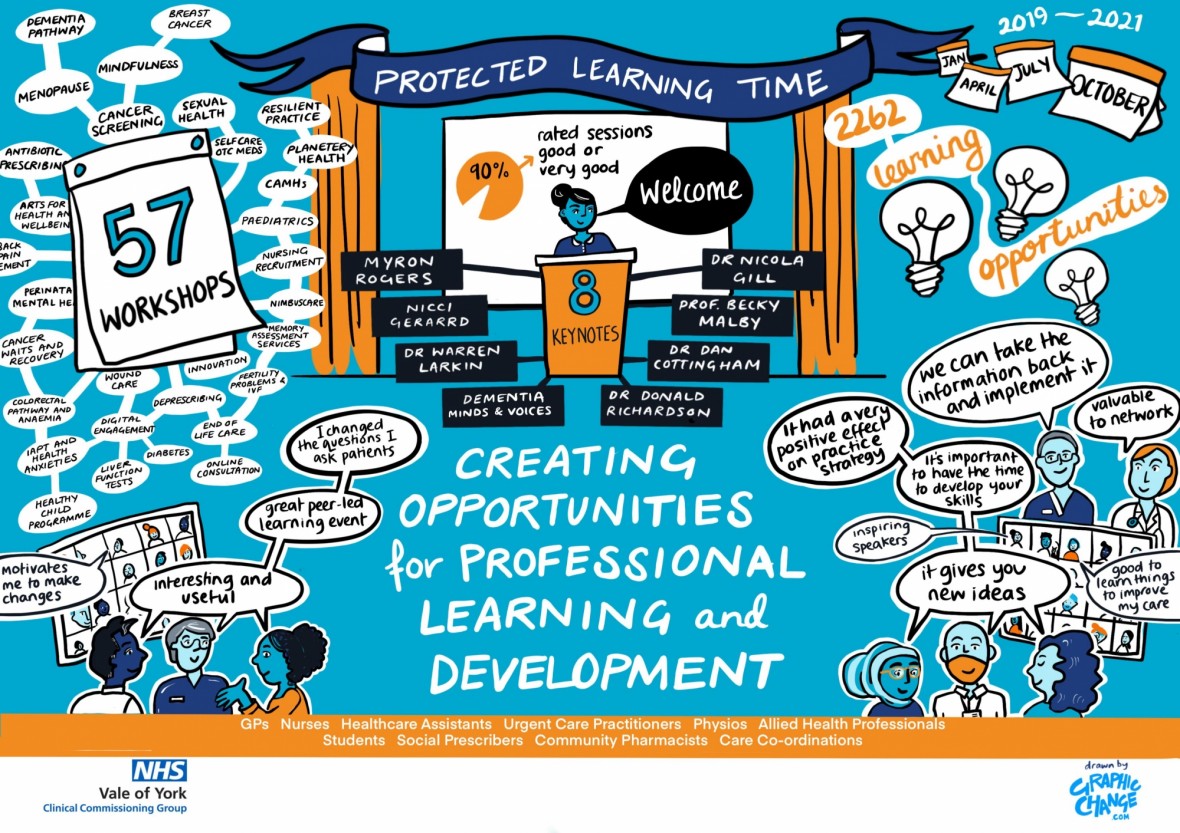 The most recent Protected Learning Time event, hosted virtually on Tuesday 5 October, focused on health inequalities and featured a keynote presentation from Dr Jessica Allen, Deputy Director at Institute of Health Equity.
Dr Allen discussed how health inequalities and life expectancy differs across England, and how these inequalities could be tackled in York and North Yorkshire to build a fairer care system following the COVID-19 pandemic.
Speaking about session, Peter Roderick, Consultant in Public Health at NHS Vale of York CCG, said: "I really welcome the timely discussion of health inequalities during Protected Learning Time. Coronavirus has exposed the underlying inequalities in our society, so it is right that primary care staff have a better understanding of the causes and what some of the solutions are.
"Looking ahead, local NHS services have the potential to make a positive impact on the inequalities in our populations and the action we take can help people to live longer, healthier lives."
Protected Learning Time takes place four times a year to provide an opportunity for healthcare professionals to learn about new clinical developments, updates to national guidance and best practice. The events feature peer-led sessions for primary care staff from across the Vale of York.
More information about Protected Learning Time can be found here.
< Back to all news stories