General practice – we were never closed
The last 14 months have been difficult for all of us. From a personal perspective it has been one of the busiest and most challenging periods of my working life. From my role as a GP, I have seen a huge shift in how healthcare is accessed both in primary care (community services e.g. GP, dentist, pharmacy) and secondary care (hospitals). I wrote a post in October about general practice being open but the last 6 months have added new pressures; lockdown 3.0 and a nationwide vaccination programme…
I can understand that it might be difficult or confusing trying to access an appointment at your local surgery so I thought it would be useful to explain how practices are running at the minute and why.
Some background…
In March 2020 practices across the country were advised by NHS England to move to a triage first approach to appointments (triage = the ability to review some clinical details ahead of booking a consultation); this was to help us screen patients for possible covid symptoms and to reduce footfall through our reception areas.
Alongside this, pre-pandemic, general practice was encouraged to offer online consultations or digital access to appointments through the GP contract.
The Kings Fund has defined the contract well here:
"Every individual or partnership of GPs must hold an NHS GP contract to run an NHS-commissioned general practice. These set out mandatory requirements and services for all general practices, as well making provisions for several types of other services that practices may also provide…"
You can choose to do your banking online, order your supermarket shop at the click of a button but it feels like healthcare has been a step behind with offering online options.
"But why have you been closed?"
A lot of people have asked when we will re-open but the answer I tell everyone, we never closed. I explained how things were the same but different in a post last year but a recent communication to GPs from NHS England, reported via the mainstream media, may lead you to believe we haven't been seeing any patients in our surgeries. This is simply not true.
The huge majority of clinicians working in general practice have been seeing patients face to face (f2f) during the whole pandemic…after some triage whether online or by phone.
I personally don't think that all practices will go back to the old model of open access to all f2f clinical consultations going forward despite recent media stories to the contrary.
Why not?
There are a number of factors:
Number of GPs – we need more
Some patients prefer the ease of a remote (online/phone) consultation
General practice workload increases year on year, without a sufficient increase in funding. We have a small budget in comparison to the number of consultations we do so we have to use our limited resources effectively
The classic 8am rush for appointments is an unfair system; rewarding those who get through on the phone first and not prioritising the patients that have the higher need; we need to provide better and safer ways for patients to access our services
Some patients might not need a f2f appointment with a GP; their problem might be better addressed by talking with a pharmacist, practice nurse or musculoskeletal practitioner (e.g. physiotherapist); using triage helps us direct patients to the most appropriate primary care clinician
F2f consultations are really valuable; having flexible consultation models allows us to give more time for those that need to come in and see us
During the pandemic we have had to use PPE and clean the room between each patient, this adds a little time to each f2f appointment
Flexible working, for various reasons some clinicians may want or need to work remotely for all or part of their hours. The pandemic has shown us that for many, working from home can bring benefits. While my job cannot

 

just

 

be done from home, is there an option to make the job more attractive to some by offering a remote solution (see first bullet point)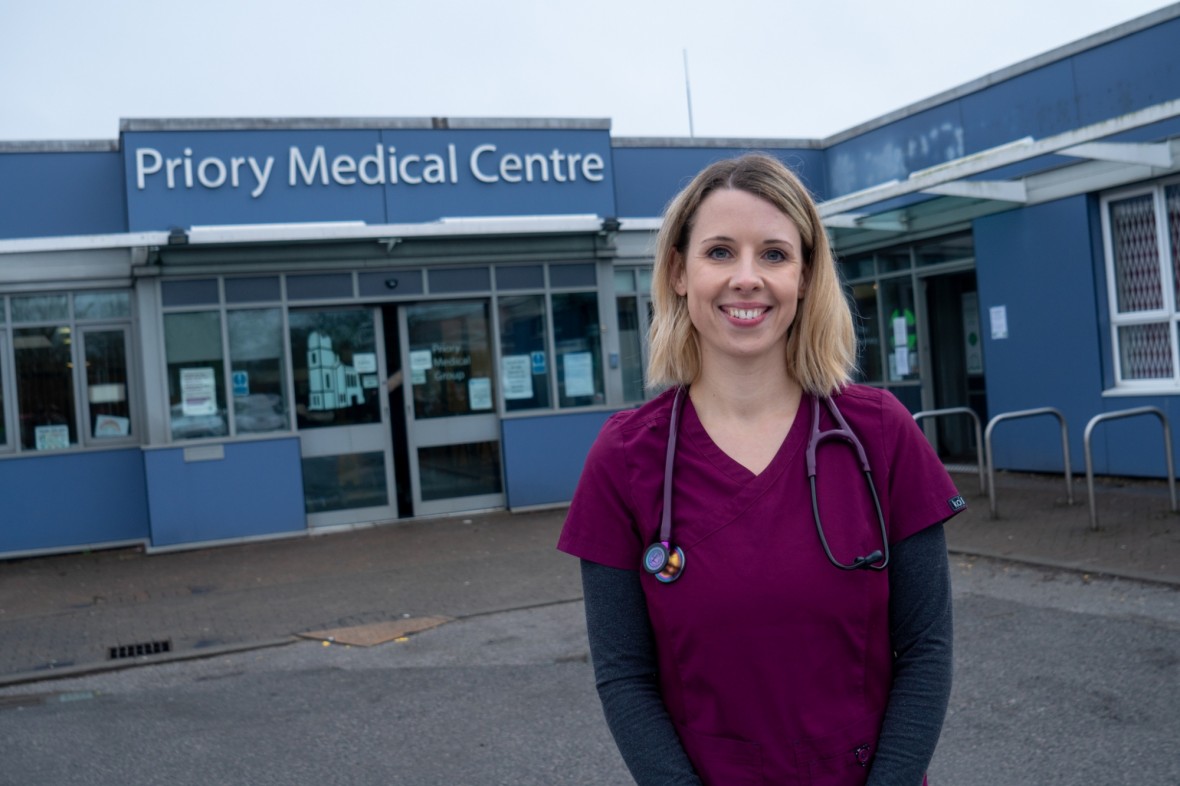 How can you get an appointment?
Many patients still call their surgery to book an appointment as they find this most convenient. Phone lines have been extremely busy this past year and some people are waiting up to an hour on hold and being left frustrated that all appointments have been taken that day.
My suggestion? Look on your practice website; is there the option of getting in touch online to request an appointment? This can be a really efficient way of getting in touch, you will be asked some questions about your clinical problem and that will be sent directly to the practice team to action. You may then be sent a text or phoned by your surgery to take things further, possibly to a f2f consultation depending on your symptoms. Quite often, you can fill these forms in 24 hours a day so you don't need to do a mad rush at 8am to try and secure an appointment over the phone.
NHS111 are accessible 24/7 – if you are unsure what care you might need (GP, dentist, pharmacy, A&E) do consider contacting NHS111. If they feel a GP assessment appropriate they do have access to a limited number of practice appointments that they can book directly. For us, they can book a same day telephone call.
Many practices split their clinics in to urgent and routine. It is useful to find out what this means for you at your practice, what wait you can expect and how you might be contacted. Remember also that your practice website and social media channels might be full of this information. At my practice, we aim to manage urgent problems within 1 working day and routine problems within 7 working days. This can change depending on staff absence or bank holidays.
Reception desks remain accessible. Unsure what you need or unable to get through on the phone? Visit your local reception desk and the team will help you navigate the tricky systems.
Some patients can feel disappointed if they are given an appointment with a non-GP clinician and feel they have the "right" to request a GP. As a doctor, I feel lucky to work with such a broad multidisciplinary team and feel strongly that GPs should not be seen as the "gold standard" clinician to see in primary care. Advanced care practitioners and physician associates, for example, are highly skilled professionals that can manage a wide range of medical problems.
Why have GPs been so busy?
When I say GPs, I use it as an all-encompassing term for clinicians working in primary care.
Demand for appointments is high for a number of reasons:
The pandemic and lockdown has delayed some people coming to see us, maybe they have felt uncomfortable to leave their house or found it difficult to access the right care
Local hospitals have a backlog of routine work; endoscopies, knee operations, pain clinic appointments. This means that patients are contacting their practice, either about their symptoms, or to chase/expedite the referral
The covid vaccination programme has been a resounding success and a joy to be part of but it has brought with it an extra workload. A lot of staff have been working extra shifts to help but we are also regularly contacted by patients who have queries about the vaccine which we need to respond to
The pandemic has also caused a surge in mental health illness; isolation, change in work/school and loss of loved ones and this has lead to an increase in patients contacting us for help
What next?
I love my job but it is getting harder and busier year on year. I worry that experienced and skilled GPs will leave the profession following the challenges we have all experienced over the last year. For general practice to thrive, it needs to be valued.
It is important to offer flexibility; taking into account the needs and wants of the local population. There isn't a "one size fits all" model of access to general practice and the media reporting that GPs have abandoned telephone and online consulting is totally inaccurate. While some practices may choose to go back to a classic system of booking directly into face-to-face consultations, many will not.