Festive rhyme helps local people to choose well this Christmas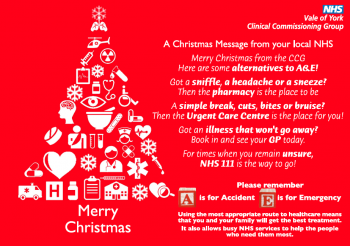 As the cold weather bites and the usual winter ailments and injuries begin to take hold, NHS Vale of York Clinical Commissioning Group's Christmas message urges local people to think twice before they go to A&E or dial 999.
The CCG's festive rhyme reminds the public that the first port of call does not always need to be A&E and gives advice on where to get the right care and treatment for different needs.
Over the winter period A&E departments and 999 services become very busy and in a number of cases patients could have sought treatment elsewhere. To ensure everyone receives the fastest and most effective treatment people need to choose the most appropriate service for their needs.
Throughout the Vale of York there are a range of local healthcare services available for people to go to, without having to wait for an appointment, if they have a minor illness, ailment or injury. The CCG's message is:

Merry Christmas from the CCG
Here are some alternatives to A&E!
Got a sniffle, a headache or a sneeze?
Then the pharmacy is the place to be
A simple break, cuts, bites or bruise?
Then the Urgent Care Centre is the place for you!
Got an illness that won't go away?
Book in and see your GP today.
For times when you remain unsure,
NHS 111 is the way to go!
Dr Andrew Phillips, Deputy Chief Clinical Officer and Lead for Urgent Care at the CCG, said: "First and foremost look after yourself. You can often self-treat many minor winter illnesses and injuries at home by keeping your medicine cabinet and first aid kit well-stocked. Most simple ailments will begin to get better within a couple of days.
"If you are on repeat medication then I strongly recommend you think ahead and make sure you have enough medication to last when your GP surgery may be closed. Don't use A&E as a back-up pharmacy, plan ahead and order enough to see you through the Christmas and New Year holidays."
Patients can also call NHS 111 when you need medical help fast but it's not a 999 emergency. NHS 111 is a fast and easy way to get the right help, whatever the time and is available 24 hours a day, 365 days a year. Calls are free from landlines and mobile phones
If you have an injury that is not serious, you can get help from the Urgent Care Centre based at York Hospital, rather than going to the A&E department. This will allow A&E staff to concentrate on people with serious, life-threatening conditions and will save you a potentially long wait.
Dr Andrew Phillips added: "If you do need professional help you can get fast, confidential and expert advice and treatment for many minor ailments and injuries from your local pharmacist without an appointment.
They can give you advice on the best over the counter medication for common winter complaints such as coughs and colds that suit your condition and medication you may already be taking.
"If your pharmacist is unable to deal with your condition they can advise on when to see your GP."
A number of pharmacies are open across the area over the Christmas and New Year holiday period – full details are available on the CCG website at www.valeofyorkccg.nhs.uk/christmas-pharmacy.
< Back to all news stories