Executive Director of Quality and Nursing receives top award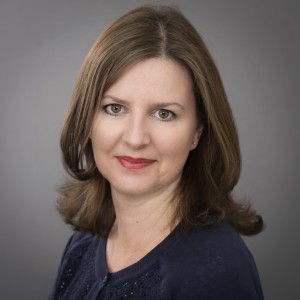 Michelle Carrington, Executive Director of Quality and Nursing for NHS Vale of York Clinical Commissioning Group (CCG) and Interim Director of Nursing for the Humber Coast and Vale Partnership, has received the Gold Chief Nursing Officer Award recognising her lifetime achievement.
The award was presented during the CCG's monthly Governing Body meeting on Thursday 6 May by Ruth May, Chief Nursing Officer for England, and came as a surprise to Michelle who was not aware that she would be receiving it.
Having started her career in 1986 as a student nurse, Michelle had an expansive career in a number of roles before joining NHS Vale of York CCG since 2014. Throughout her career she has been defined by the quality of her leadership and that was pivotal to ensure the financial stability of the CCG.
The Gold Chief Nursing Award was launched at the Chief Nursing Officer Summit in 2019 to recognise lifetime achievements for nurses and midwives. Award recipients are nominated by senior teams and it is awarded by either the Chief Nursing Officer for England and their deputies or the Chief Midwifery Officer.
When asked about what receiving the award meant to her, Michelle said: "It was a real honour and huge surprise to receive the award last week. What the award says to me is that people took the time to put me forward and thought me worthy which is incredibly humbling."
Ruth May, Chief Nursing Officer for England, said: "I want to say a personal thank you to Michelle for her significant, outstanding contribution to our profession over a number of years. This award is a testament to her excellent leadership as Executive Director of Quality and Nursing and to her commitment to patients and residents in the Vale of York."
Dr Nigel Wells, Clinical Chair of NHS Vale of York CCG, said: "I am delighted that Michelle has been awarded the Gold Chief Nursing Officer award; we are so lucky to have such a knowledgeable and caring chief nurse working for our population."
"Michelle has galvanised and led teams regionally and locally during the COVID-19 pandemic, she has gone over and above with regards her efforts to ensure that all residents have been able to access care, tests and vaccinations. The Governing Body of the CCG was so pleased to be able to be there to see Michelle collect the award."
International Nurses Day 2021
International Nurses Day is observed every year on 12 May to mark the contributions that nurses make to society. Throughout the COVID-19 pandemic, nurses have worked tirelessly in hospitals and care settings to support patients suffering from the virus, as well as playing a key role in the vaccine roll out.
Michelle Carrington paid tribute to nurses saying: "On this International Nurses Day, I want to extend my thanks to all nurses on their special day, celebrate as you should."
"This year you have shown kindness, fortitude and resilience like never before – in every area of care from hospitals, to care homes, community care, primary care, end of life and in specialised care, for those who directly supported the pandemic response and those who kept the show on the road to ensure patients received the care they deserve."
< Back to all news stories