While people will be looking forward to having extra time off during the two May bank holiday weekends (5-7 May and 26-28 May), these public holiday periods can be particularly busy for NHS services.
Therefore, NHS Vale of York Clinical Commissioning Group (CCG) wants to make sure people know where to go to get the most suitable treatment if they are unwell to avoid unnecessary trips to the A&E department.
Choosing the right service will ensure patients receive the best possible treatment, while freeing up busy NHS services to help the people who need them most.
Self-care
Self-treat minor illnesses and injuries such as coughs, sore throats, grazes, hangovers at home.
Keep your medicine cabinet and first aid kit well stocked with medicines such as paracetamol and ibuprofen.
Most simple ailments will begin to get better within a couple of days.
Local pharmacy
Pharmacists are highly trained health professionals who can provide confidential, expert advice and treatment for a range of common illnesses, such as headaches, fevers, upset stomachs and minor rashes.
Many pharmacies are open on evenings and on bank holidays. To find the nearest pharmacy near you, visit: www.nhs.uk/service-search
Below is a comprehensive timetable showing which Vale of York pharmacies (in York and Selby) are open during the two bank holiday Mondays in May (7 and 28 May).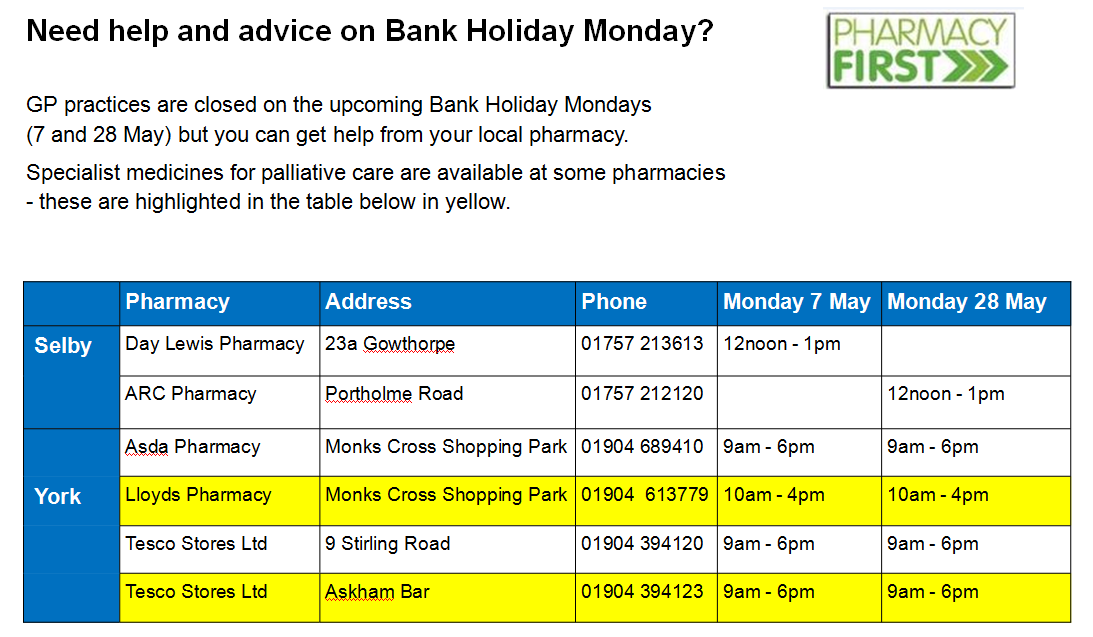 NHS 111
You should use the NHS 111 non-emergency service if you urgently need medical help or advice when it is not a life-threatening situation.
NHS 111 is available 24 hours a day, 365 days a year. When you call 111 you will speak to a highly trained adviser who is supported by healthcare professionals and they will direct you to the most appropriate medical care.
Call 111 if you:
Need medical help fast but it's not a 999 emergency
Think you need to go to A&E or need another NHS urgent care service
Don't know who to call or you don't have a GP to call
Need health information or reassurance about what to do next
You can now access NHS 111 services on your smartphone by downloading the NHS 111 app (call 111 for instructions on how to do this).
Users can type their symptoms into the app to determine which type of healthcare they require. This service offers an additional route for urgent medical advice.
GP out-of-hours service
You should use the GP out-of-hours service when you require urgent but not life-threatening treatment.
The Vale of York GP out-of-hours service is available 365 days a year. It is provided from the urgent care centre at York Hospital and the minor injury unit at the New Selby War Memorial Hospital.
The service does not accept walk-in patients. Appointments must be arranged by calling NHS 111. Home visits are provided where appropriate.
The service is available 6.30pm to 8am on weekdays and 8am to midnight on weekends and bank holidays.
Emergency care
A&E is for medical emergencies and serious health issues, such as having difficulty breathing, chest pains or serious accidents.
If you have a medical emergency, call 999 for an ambulance or go to the nearest emergency department. The emergency department in the Vale of York is located at York Hospital.
Dr Kevin Smith, Executive Director of Primary Care and Population Health, said: "Weekends and public holidays can be particularly busy times for NHS services, which is why we need people to use the most appropriate healthcare service available to ensure they get the right care at the first attempt.
"Many people see A&E as the first place to go when they're unwell but in many cases there are more suitable NHS services available – such as the local pharmacy, NHS 111 or the out-of-hours GP service.
"Before you go to A&E, ask yourself: Is my condition a real emergency? Unnecessary use of A&E, with conditions that could be treated by a pharmacist, by GP or by simply resting at home, place high demand on the service and can delay care for those who really do need immediate, life-saving treatment."