North Yorkshire and York Care Provider Olympics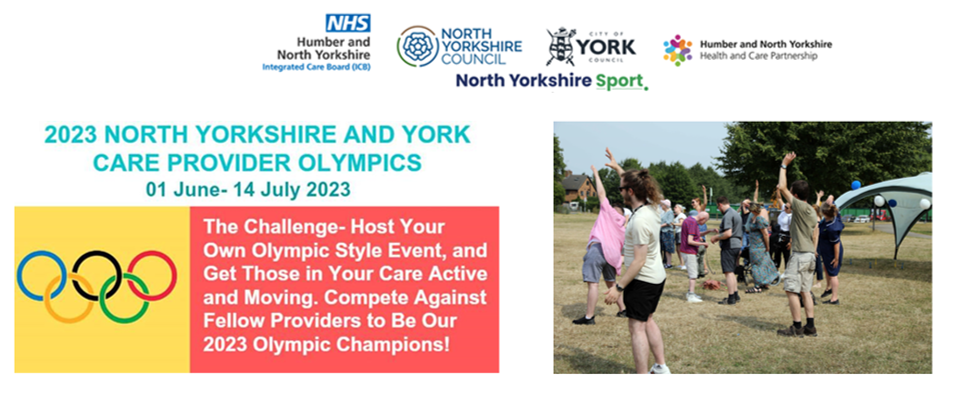 NHS Humber and North Yorkshire ICB in collaboration with partners, are delighted to announce that after over 600 individuals from across the care sector participated and rose to the challenge in 2022- The North Yorkshire and York Care Provider Olympics is back for 2023 and you are now open to register your provider to take part. This year's running will take part between 01 June and 14 July.
This is your chance to get residents and staff up and moving, and hold your own Olympic style event to promote the health benefits of physical activity to those in your care. We know that by staying active together we can fight deconditioning syndrome- which can result in reduced mobility and muscle strength, confusion, poor mental health and increased risk of falls. By coming together across the region to celebrate and share ideas on how we can keep residents active which is clinically proven to reduce the risk of major illness by 30%.
You can fill your event full of as many different activities as you like, and consider how you can personalise these to the differing needs of those in our care so we can make sure they are inclusive of all. This is your chance to be as creative as possible, last year we saw everything from wheelchair races to weightlifting and from activities for bed based residents, staff versus resident rounders and much more.
However as last year we have selected a range of "Medal Events" which providers can take part in, which will count towards our Olympic Medal Table are your chance to compete against fellow providers for our overall Olympic Champions Trophy! All care settings across the county are able to take part and challenge against our reigning champions The Orchards Extra Care in the Older Adults Category, and Sherbutt Residential Care in the Younger Adults and LD Category.
We will be sharing a weekly Olympic Bulletin throughout the competition so you can keep up to date with how our competitors are taking part, and to share resources, guidance and ideas on how you can promote physical activity in your setting. Our Olympic Closing Ceremony will take place in July where we will come together to celebrate everybody who took part, and announce our 2023 champions.
To register to take part in the fun all you need to do is complete our registration form and return to sam.varo@nhs.net, which can be found in our 2023 competitors guide below along with plenty of ideas to plan your event .Don't miss your chance to join the fun and get staff and residents moving this summer.
2023 Resources and Olympic Bulletins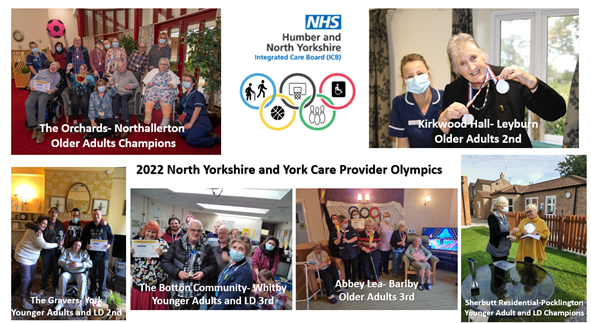 2022 North Yorkshire and York Care Provider Olympics
Over 600 individuals and 32 providers took part in our 2022 competition, and got moving to highlight the benefits of physical activity for those in our care. We were amazed by the creativity and dedication our care sector put into their events and creating a lasting legacy of activity. Our 2022 winners were:
Older Adults Category- Winners: The Orchards (Northallerton)
Older Adults Category- Runners Up: Kirkwood Hall (Leyburn)
Older Adults Category- 3rd: Abbey Lea Residential Home (Barlby)
Younger Adults and LD Category- Winners: Sherbutt Residential and Home Care (Pocklington)
Younger Adults and LD Category- Runners Up: The Gravers (York)
Younger Adults and LD Category- 3rd: The Botton Community with Ryedale MENCAP (Whitby)
To view our final medal table from the 2022 competition please follow this link
To view the highlights video from the competition including photos from all the competitors please follow this link
To view a recording of our celebration event sharing the achievements of all our providers and announcing the final results, please follow this link.
To see photos from the competition, and our winners receiving their trophies- please follow this link.