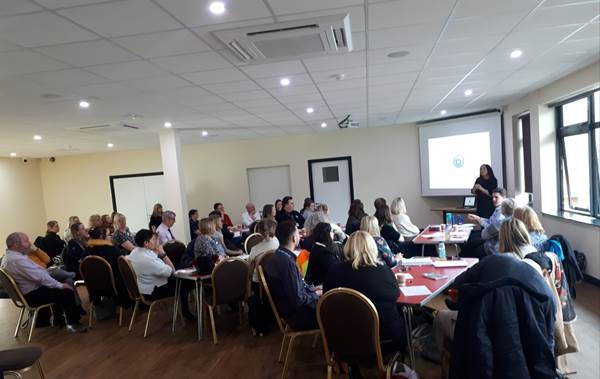 Please note that during the current outbreak and social distancing requirements, these forums are suspended but still taking place bi-weekly as the Partners in Care Virtual Forum.
A forum known as 'Partners in Care' is held bi-monthly for information sharing and discussion to bring stakeholders together in achieving the delivery of high quality care to residents. 
Hosted by the CCG, Partners in Care is open to all care stakeholders from across the area and provides updates for providers regarding the latest developments in healthcare and provides opportunity to influence and collaborate on service and quality improvement.  
The agenda is shaped by the forum's membership and includes regular updates from teams within the CCG, the Discharge Liaison Team at  York Teaching Hospital NHS Foundation Trust and the Care Home and Dementia  Team (Tees, Esk and Wear Valleys NHS Foundation Trust), Skills for Care and North Yorkshire County Council Quality Improvement Team.
In addition there are updates around pressing issues and innovative programmes of work.  External speakers visit often to listen to member's feedback or to share information.  Topics discussed in the last 12 months include connecting care homes with NHS Mail, a workshop discussion to shape the End of Life Care Strategy, workforce development, discharge process, equipment in community and even how to spread joy in the workplace! 
Each meeting has a strong emphasis on shared learning across providers to shape better care.  Open and honest dialogue between social care providers and partners across the area is encouraged. 
To enable as many of our homes and domiciliary providers to attend as possible, the venue is alternated between the central and south localities of the Vale of York on a rotating basis. The meetings take place bi-monthly and last for 3 hours.
If you would like to be added to our mailing list for invitation to Partners in Care, or have any questions about the meeting please contact: sam.varo@nhs.net
What happened at the last meeting?
A big thank you to all our partners who took the time from their day to attend a very well attended and collaborative January forum. There was a fantastic attendance of 50 individuals from across the care sector, primary care, secondary care, local authority, mental health and research. The group took part in detailed discussion on topics including:
Closer working between acute services and care providers around discharge from care

The benefits of completing the Data Security Protection Toolkit

How individuals in receipt of care may benefit from an advocate

Project ECHO

Advance care planning

Good news stories from care providers across the Vale of York
Upcoming meetings of Partners in Care
No face to face forums are currently scheduled. Please see Partners in Care Virtual Forum for upcoming virtual dates.
Previous meetings of Partners in Care
| | | | |
| --- | --- | --- | --- |
| Date | Time | Venue | Agenda and papers |
| Wednesday 29 January 2020 | 1.30-4.30 | Wendy Shepherd Room, York Sports Centre, Rawcliffe. YO30 5RE | |
| Wednesday 27 November 2019 | 1.30-4.30 | Riccall Regen Centre. Landing Lane, Riccall. YO19 6PW | |
| Wednesday 18 September 2019 | 1.30-4.30 | Harris Room. YHA York, Water End, York YO30 6LP | |
| Wednesday 10 July 2019 | 1:30-4:30 | GEC Room, Easingwold Galtres Centre. YO61 3AD | |
| Thursday 23 May 2019 | 1:30-4:30 | Riccall Regen Centre. Landing Lane, Riccall. YO19 6PW | |
| Wednesday 27 March 2019 | 1:30-4:30 | Wendy Shepherd Room, York Sports Centre, Rawcliffe. YO30 5RE | |
| Wednesday 6 February 2019 | 1:30-4:30 | GEC Room, The Galtres Centre. Easingwold, YO61 3AD | |
| Thursday 22 November 2018 | 1:30-4:30 | Riccall Regen Centre. Landing Lane, Riccall. YO19 6PW | |
| Wednesday 12 September 2018 | 1:30-4:30 | Wendy Shepherd Room, York Sports Centre. Rawcliffe, York. YO30 5RE | |
| Wednesday 20 June 2018 | 1:30-4:30 | GEC Room, The Galtres Centre. Easingwold, YO61 3AD | |
| Tuesday 27 February 2018 | 1:30-4:30 | Selby War Memorial Hospital, Doncaster Road. Selby, YO8 9BX | |
Other Partners in Care Pages